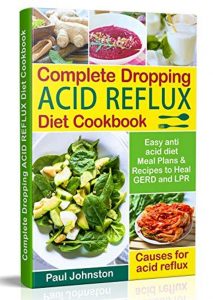 "About Complete Dropping Acid Reflux Diet Cookbook: Easy Anti Acid Diet Meal Plans & Recipes to Heal GERD and LPR:
Heartburn, burping, abdominal pain, and discomfort…you know the symptoms of acid reflux all too well. Luckily, the key to managing GERD and LPR is closer than you think.
Complete Dropping Acid Reflux Diet Cookbook is the first book to explain how acid reflux, particularly silent reflux, is related to dietary and lifestyle factors. It also explains how and why the reflux epidemic is related to the use of acid as a food preservative.
In Complete Dropping Acid Reflux Diet Cookbook, all the information you need comes with recipes you can rely on so you can eat and live well without the discomfort caused by acid reflux.
Do you suffer from abdominal bloating; a chronic, nagging cough or sore throat; post-nasal drip; a feeling of a lump in the back of your throat; allergies; or a shortness of breath? If so, odds are that you are experiencing acid reflux without recognizing the silent symptoms. Even without the presence of heartburn or indigestion, more than 60 million people are suffering from acid-related disorders that are undetected or untreated–and leading to long-term health problems, including the rapid rise of esophageal cancer. Since there are no outward signs of acid damage and the typical symptoms might not be recognized, until now you might not have known how pervasive acid reflux is or that you have it.
The Complete Dropping Acid Reflux Diet Cookbook is your ultimate guide to controlling acid reflux with simple dietary changes. Tried-and-true, easy recipes taste great and don't aggravate your GERD and LPR symptoms.
Complete Dropping Acid Reflux Diet Cookbook offers:
• BREAKFAST RECIPES
• APPETIZERS AND SIDES RECIPES
• VEGETARIAN AND VEGAN RECIPES
• SEAFOOD AND POULTRY RECIPES
• BEEF AND LAMB RECIPES
• SNACK AND SWEETS RECIPES
• SAUCES AND CONDIMENTS RECIPES
You don't have to suffer from GERD and LPR any longer. Through the guidance and recipes in The Complete Dropping Acid Reflux Diet Cookbook, you'll use the power of nutrition to alleviate and manage your acid reflux symptoms.
Targeted Age Group: G
Written by: Paul Johnston
Buy the ebook:
Buy the Book On Amazon

Author Bio:
Hey There!
I'm Paul Johnston!
I'm a passionate foodie and a chef by profession; I enjoy writing cookbooks and recipes while bringing something new out in the light. Cooking is as creative as any form of art, and it takes as much creativity to bring all sorts of ingredients together in a delightful and flavorsome blend, just like any other great masterpiece. This is what I look for while conceiving an idea for a cookbook.
I not only write recipes for every day meals, but also strive to work on all kinds of health-oriented diet plans, including ketogenic, alkaline, anti-inflammatory, acid reflux, paleo diets, etc. These special diet plans are important for all those struggling with various healthy complexities, and it gives great pleasure that I am able to bring both good health and great flavors to the lives of such individuals. I gained my experience a bit from learning, a lot from practice, and mostly from travelling around different places and exploring new culinary cultures.
I am greatly fascinated by the cultural diversity of the world and aspire to try all possible cuisines, so that I would get to share them with all. Cooking nutritious food can be easy and fun, if we are well guided about the basics of a diet, and this is my vision as a 'cookbook writer' to be a torchbearer for those who are struggling with health problem or having a difficult time in the kitchen.
Keep following my work and help me improve my work through your honest feedback.
Enjoy!
Follow the author on social media:
Learn more about the writer. Visit the Author's Website