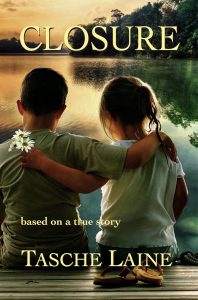 "About CLOSURE: based on a true story:
Looking back, Tara wonders if what followed her first kiss was a warning of things to come. At the tender age of ten, her heart broke when her best friend Trey moved 1,500 miles away. Crossing paths five years later, the two teens exchange beautiful letters that cement their love. They embark on an idealized relationship, despite trauma and heartbreak on both sides, only to be forced apart shortly after.
As time marches on, Tara aches to know what could have been… until fate presents her with one last opportunity twenty years later. Will she find true love with her first love, or will she finally understand that self-esteem comes from within?
Closure is a moving, award-winning fictional memoir that features courage, raw emotions, and real-life issues.
An award-winning 'slice of life' tale about love and loss.
Targeted Age Group: 18+
Written by: Tasche Laine
Buy the ebook:
Buy the Book On Amazon

Buy the Print Book:
Buy the Book On Amazon
Buy the Book On Barnes & Noble/Nook
Author Bio:
Tasche Laine has worked as a journalist, newspaper columnist, teacher, and studio teacher to child actors in Hollywood. She's lived all over the U.S. and currently resides in the Pacific Northwest.
CLOSURE is a 2018 International Book Award winner, in recognition of excellence in writing, for Readers' Favorite. It is a fictional memoir based on Tasche's own life, and her first book. She is currently working on a new project, giving her character, Tara, a fictitious life all her own. In this harrowing sequel, Tara's 'normal' life is about to get a whole lot scarier. Watch for SHRINK ME in stores soon.
Follow the author on social media:
Learn more about the writer. Visit the Author's Website
Facebook Fan Page
Twitter
Instagram
This site contains affiliate links to products. We may receive a commission for purchases made through these links.