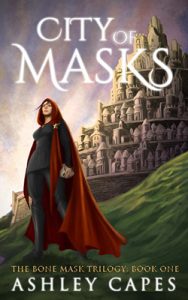 About City of Masks:
A noble daughter burdened by power she never sought.
Perched on an unforgiving coast, the city of Anaskar is under threat from enemies within. Its own royal family feuds over possession of sentient bone masks of power, leaving Sofia Falco, daughter to the city's Lord Protector, to foil a conspiracy designed to strip her father of both his title and powerful Greatmask.
A bitter mercenary accused of murder.
Yet when disaster strikes, Sofia is forced to flee the palace and into the city where she crosses paths with mercenary Notch. But Notch has his own problems – accused of murder, he must fight to clear his name, all the while hunted by the city's robed assassins, the very people who are now searching for Sofia.
A young Pathfinder seeking vengeance.
Meanwhile, far across the western desert, Pathfinder Ain must overcome his doubts and leave on a hopeless quest. To restore his people to their rightful home, he must unlock the ancient mystery of Anaskar's Sea Shrine and the gargantuan sea beast that lurks beneath its harbour. Yet all who have gone before him have failed…
Follow three unlikely heroes on an epic fantasy adventure where the struggle over bone masks of power threatens to tear their city – and kingdom – into shreds.
Buy the ebook:
Buy the Book On Amazon

Author Bio:
Hi! My name is Ashley and I'm a writer from Oz. I'm a novelist, poet and teacher obsessed with speculative fiction and haiku and 'Magnum PI' and 'Cowboy Bebop' are two of my favourite shows.
I often explore Australian settings in my fiction but I also write epic fantasy that fans of Brandon Sanderson and Raymond E Feist might enjoy. If you check out any of my books I'd love to hear what you think about 'em!
Ashley is a poet, novelist and teacher living in Australia.
He's the author of six poetry collections and five novels. Ashley teaches English, Media and Music Production, has played in a metal band, worked in an art gallery and slaved away at music retail. Aside from reading and writing, Ashley loves volleyball and Studio Ghibli.
Follow the author on social media:
Learn more about the writer. Visit the Author's Website
Twitter
This site contains affiliate links to products. We may receive a commission for purchases made through these links.