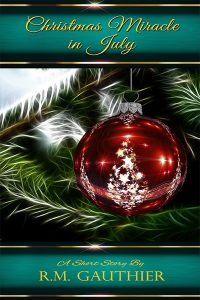 "About Christmas Miracle in July:
A small town.
A reluctant visitor.
A case unlike any other.
Arriving in Christmas Town, on his latest assignment, Jack must go against his core belief to get the job done.
Or does he?
With a hatred for the season and everything it represents, Jack is forced to live and breathe the Christmas spirit while wading through the small-town antics to solve his latest case. However, meeting one shop keeper changes his perspective and complicates his work even further.
Grab a copy and take a trip through Christmas Town today!
Targeted Age Group: Adult
Written by: R.M. Gauthier
Buy the ebook:
Buy the Book On Amazon
Author Bio:
RM Gauthier lives in Ontario, Canada and has a diploma in Film & TV Production.
She began her writing career late in life, which she has been quoted saying, "better late than never." She has successfully published several short stories and novels having the time of her life while doing it. She loves every part of writing from creating the characters to describing the worlds.
Follow the author on social media:
Learn more about the writer. Visit the Author's Website
Facebook Fan Page
Twitter