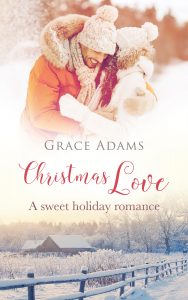 About Christmas Love:
Blake hates Christmas.
Shelley loves the holiday more than anything else.
Blake's plan for the holidays: six bottles of whiskey, a luxury apartment in Miami, no women, no contact with friends and family. Just him and Netflix.
Shelley's plan for the holidays: relieve Tyrone Dane of thirty thousand dollars, get out of Canada unharmed, celebrate with a glittering Christmas party with her family.
But fate intervenes. Blake and Shelley are stranded in a snow-covered chalet. Christmas morning is approaching, and with it comes an unforgettable celebration.
If you love romantic, snow-covered Christmas stories, get Christmas Love on your reader!
Buy the ebook:
Buy the Book On Amazon

Author Bio:
Grace Adams is a romance writer at heart. She has always believed in true love and has found it in real life as well. In addition to writing, she is mother to a boy and a girl and married to a wonderful husband. When she doesn't write she likes to spend her time gardening, reading and playing tennis.
This site contains affiliate links to products. We may receive a commission for purchases made through these links.