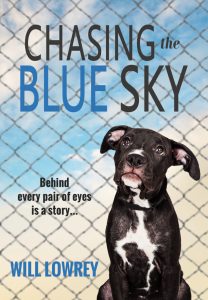 "About Chasing the Blue Sky:
Behind every pair of eyes that view this world through a tapestry of worn fences and shadowy, concrete kennels lives a rich and vibrant story. This is one.
In the oppressive heat of a Clay County summer, a chained dog gives birth to a spirited, black puppy named Toby. Taken from his mother's side at just a few weeks old, Toby soon discovers the love of an adoring family. But just as quickly, he finds himself fighting to survive in the unforgiving world of the county animal shelter.
But he's not alone – a motley cast of homeless dogs and a devoted pair of shelter workers will give anything to make sure Toby makes it out alive.
Chasing the Blue Sky is a tale of struggle, hope, and redemption — an untold story, until now.
Targeted Age Group: 16-99
Written by: Will Lowrey
Buy the ebook:
Buy the Book On Amazon
Buy the Print Book:
Buy the Book On Amazon
Author Bio:
WILL LOWREY is an attorney and animal rights advocate from Richmond, Virginia. He holds a Juris Doctor from Vermont Law School and a Bachelor of Science from Virginia Commonwealth University. Will has been actively involved in animal causes for over 15 years, including experience with animal sheltering, pit bull advocacy, natural disaster response, animal fighting cases, roadside zoo closures, Native American reservations, community outreach, protests, and public records campaigns. He is also the author of "We the Pit Bull: The Fate of Pit Bulls Under the United States Constitution" published in the Lewis and Clark Animal Law Review Journal, Volume 24, Issue 2.
Follow the author on social media:
Learn more about the writer. Visit the Author's Website
This site contains affiliate links to products. We may receive a commission for purchases made through these links.