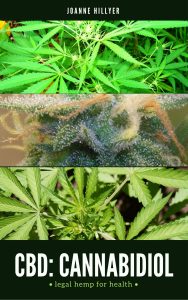 "About CBD: Cannabidiol — Legal Hemp for Health: The ultimate guide to CBD-rich medical marijuana, including CBD oil, Rick Simpson oil, and cannabis for pain and other ailments by Joann Hillyer:
Dating back to 3000 B.C., cannabis has been used as a relaxant and pain reliever, both for recreational and medicinal purposes. In this book you will learn everything you need to know about cannabis. A lot of people mistake Cannabis or marijuana for being just a recreational drug and nothing more. This cannot be further from the truth. While the leaves and flowers of the hemp plant are indeed used to produce pot, these and its other parts — the stems, roots, and seeds — are also made into hemp fiber, rope, paper, building materials and textiles.
Another byproduct of the plant is hemp oil, which can be consumed as food, used as fuel, or made into an ingredient in lotions, cosmetics, and other body care products. Lastly, and of perhaps the greatest value, the hemp plant serves medicinal purposes.
Targeted Age Group: adults
Written by: Joanne Hillyer
Buy the ebook:
Buy the Book On Amazon

Author Bio:
Joanne Hillyer has a lifelong interest in wellness, healthy eating, alternative medicine, and the outdoors. She is especially interested in using easily found tools and ingredients for improving healthy living. Born and raised in the Pacific Northwest, she enjoys the great outdoors, travel, cooking, and walking.
Follow the author on social media:
Learn more about the writer. Visit the Author's Website