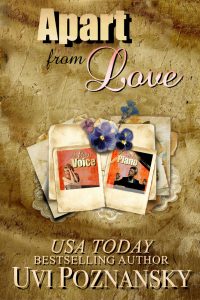 "About Apart from Love:
Apart from Love is not your typical love story. All-consuming, heart-wrenching, and dark, it is an epic that starts when Ben returns to meet his father, Lenny, and his new wife. It is then that he discovers a family secret. Will Ben and Anita find a path out of conflicts, out of isolation, from guilt to forgiveness?
Targeted Age Group: G
Written by: Uvi Poznansky
Buy the ebook:
Buy the Book On Amazon
This site contains affiliate links to products. We may receive a commission for purchases made through these links.