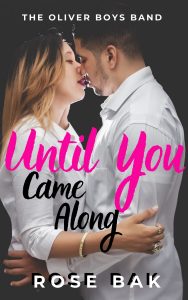 About Until You Came Along:
He's supposed to be watching the rock stars, not their sister…
Jen has been managing her family farm alone for years while her famous brothers tour the world. With their record contract expiring, the guys head home to mend fences with their estranged sister and think about their future. But when the band's bossy security chief Nick moves in too, sparks fly.
Nick is ready to put down roots, but Jen knows better than to trust someone just passing through town. She's not ready to let down her walls. Unfortunately for her, Nick knows just the way to break them down.
Is it a summer fling, or will their love last?
"Until You Came Along" is the first book in The Oliver Boys Band series. This steamy standalone romcom features a strong independent heroine, a hot alpha security chief, four meddling brothers, and a romantic HEA.
Targeted Age Group: 18 and over
Written by: Rose Bak
Buy the ebook:
Buy the Book On Amazon
This site contains affiliate links to products. We may receive a commission for purchases made through these links.