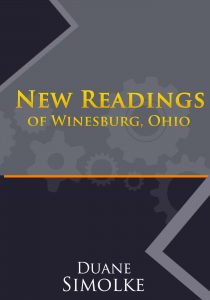 "About New Readings of Winesburg, Ohio:
Duane Simolke examines Sherwood Anderson's Winesburg, Ohio, as it relates to Gertrude Stein, gender roles, gay subtext, failed communication, and the machine in the garden. Simolke also looks at Anderson's concerns about mechanization, loneliness, and the mistreatment of many people.
Ch. I: Introduction
Ch. II: Anderson And Stein: Symbiosis
Ch. III: Teachers Groping In The Dark
Ch. IV: Men And Women
Ch. V: "More Than Man Or Woman"
Ch. VI: Industrialism: The Machine In The Berry Field
Ch. VII: Conclusion: Closing The Book Of The Grotesque
"This work should be required reading in any college course involving the art and craft of short-story writing as well as in courses on Sherwood Anderson, himself." –Ronald L. Donaghe, author of Common Sons.
Buy the ebook:
Buy the Book On Amazon
[Read more…] about Featured Post: New Readings of Winesburg, Ohio
This site contains affiliate links to products. We may receive a commission for purchases made through these links.