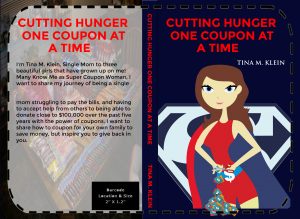 "About Cutting Hunger One Coupon At A Time:
Learn how one single mom went from struggling financially having to rely on help from her community to keep the bills paid to becoming Super Coupon Woman and donating well over $100,000 to her community with the power of coupons! She shares her story and teaches how to coupon in easy to follow steps so others can save money in their everyday lives and inspire others to pay it forward in their communities also
Targeted Age Group: 20-60
Written by: Tina Klein
Buy the ebook:
Buy the Book On Amazon
—>
This site contains affiliate links to products. We may receive a commission for purchases made through these links.