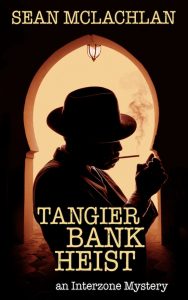 About Tangier Bank Heist: An Interzone Mystery:
Right after the war, Tangier was the craziest town in North Africa. Everything was for sale and the price was cheap. The perverts came for the flesh. The addicts came for the drugs. A whole army of hustlers and grifters came for the loose laws and free flow of cash and contraband.
So why was I here? Because it was the only place that would have me. Besides, it was a great place to be a detective. You got cases like in no other place I'd ever been, and I'd been all over. Cases you couldn't believe ever happened. Like when I had to track down the guy who stole the bank.
No, he didn't rob the bank, he stole it.
Here's how it happened . . .
THE LATEST NOVEL BY SEAN MCLACHLAN, AUTHOR OF THE MASKED MAN IN CAIRO MYSTERY SERIES, IS ON SALE FOR 99 CENTS UNTIL THE END OF OCTOBER.
Buy the ebook:
Buy the Book On Amazon
[Read more…] about Featured Post: Tangier Bank Heist: An Interzone Mystery by Sean McLachlan