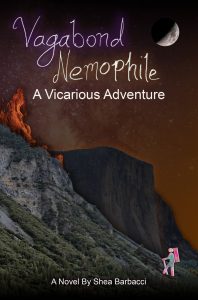 "About Vagabond Nemophile:
Have you ever wanted to simply walk away from it all? Has a feeling of futility permeated your day to day ambition, allowing hopelessness to creep in and cripple your motivation? What happens when you yield to the realization the rewards you seek along the path you travel will not be what you wished to work towards?
Bren Dali was fed up with his studies, his work, his expressions, the burden of his possessions, Florida, and the general direction his life seemed to be heading.
He leaves it all behind in search of renewal. Bren boards a bus to the opposite corner of the United States, bringing nothing except for a broken heart, a small amount of cash, wilderness survival gear, and a freshly formed (but short-lived) friendship. The only plan is to hike in the woods, find culture, and see what happens. This is his journal.
Come, take a walk.
Targeted Age Group: 19-50
Written by: Shea Barbacci
Illustrated by: Shea Barbacci
Buy the ebook:
Buy the Book On Amazon
—>