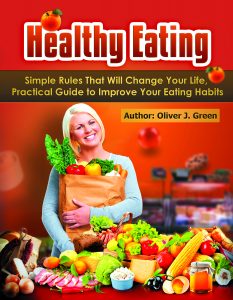 "About Healthy Eating: Simple Rules That Will Change Your Life, Practical Guide to Improve Your Eating Habits:
Are you overwhelmed by the amount of information about what to eat and what not to eat?
Do you hate the way your body looks and feels? Would you like to eat healthier and feel better?
Are you sick of 30-day cleanses and diets that never seem to last?
If you're looking for real, comprehensible (not scientific jargon), evidence-based guidance to help you eat healthier, you've come to the right place. This book is YOUR ULTIMATE GUIDE TO HEALTHY EATING.
Packed with information about what healthy eating really means, how to make lasting lifestyle changes, how to eat healthy on a budget and MORE, this book will change the way you think about food. It also debunks over a dozen popular healthy eating myths and provides an unbiased look into different kinds of diets.
Welcome to your one-stop shop for all things healthy eating! A book truly focused on helping you eat the best and feel your best.
Targeted Age Group: 18-60
Written by: Oliver J. Green
Buy the ebook:
Buy the Book On Amazon
—>