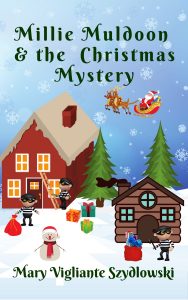 About Millie Muldoon & the Christmas Mystery:
Is something wrong with Santa Claus? He stopped at their house on Christmas Eve. He ate the cookies and drank the milk they put out for him. But he didn't fill their stockings or leave them any presents. Why? Was Santa getting forgetful? Was there an emergency back at the North Pole? Could he have put them on his naughty list by mistake? Millie needs to use her detective skills to solve the mystery of the missing presents before Christmas is ruined!
Buy the ebook:
Buy the Book On Amazon
Buy the Book On Barnes & Noble/Nook
Buy the Book On Smashwords
Buy the Book On iBooks/iTunes
Buy the Book On Kobo
[Read more…] about Featured Post: Millie Muldoon & the Christmas Mystery by Mary Vigliante Szydlowski
This site contains affiliate links to products. We may receive a commission for purchases made through these links.