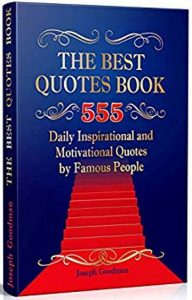 "About The Best Quotes Book: 555 Daily Inspirational and Motivational Quotes by Famous People:
Over than 365 quotes in this book selected by the authors for every occasion, including:
• inspirational quotes;
• motivational quotes;
• life quotes;
• funny quotes;
• famous quotes;
• relationship quotes;
• happiness quotes;
• friendship quotes;
• daily motivational quotes;
• best quotes;
• motivational gifts.
As the day begins, so you spent it. Read this book every morning to maintain motivation and enthusiasm.
Targeted Age Group: G
Written by: Joseph Goodman
Buy the ebook:
Buy the Book On Amazon
—>