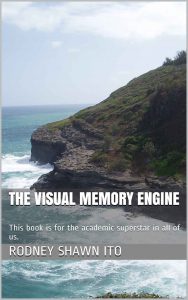 "About The Visual Memory Engine:
This book will help the student convert information into images. They place the images into scenes. They recall the scenes and can recall the information.
The student can use this book and earn top grades and have more free time.
Targeted Age Group: 6 to 18+
Written by: Rodney Ito
Buy the ebook:
Buy the Book On Amazon
—>
This site contains affiliate links to products. We may receive a commission for purchases made through these links.