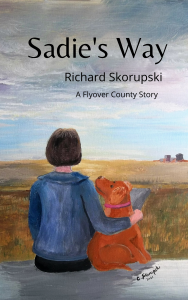 About Sadie's Way:
Ripped from her suburban New Jersey life by witness protection agents, seventeen-year-old Sarina suffers the loss of her mother, her little brother. It's her father's fault. Now the two of them have to move across the country to a new home and a new fake life.
Glenn, by pointing out a possible money-laundering scheme to his bosses, not only loses his job. He loses his wife and son to murder. The warning says, "Be careful who you talk to."
Can Glenn survive? Can he learn to understand his teenage daughter's feelings?
Can Sarina learn to love (or even like) the dad who had spent most of his time at work? Can she get over how her father ruined her life?
The two change their appearance and receive new names and identities. They are set down near the very small town of Helen, South Dakota where they can be safe (or can they?)
Get Sadie's Way to see how Jim and Tracie adapt to their new lives and their new environment. See how they cope with the world around them.
Targeted Age Group: 16 – 99
Written by: Richard Skorupski
Buy the ebook:
Buy the Book On Amazon
This site contains affiliate links to products. We may receive a commission for purchases made through these links.