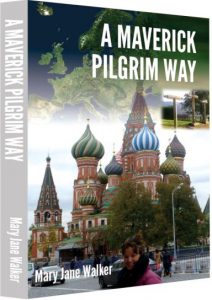 "About A Maverick Pilgrim Way:
Not just for the religious, A Maverick Pilgrim Way is the fourth in a series of lively travel memoirs by New Zealand adventurer and political scholar Mary Jane Walker.
With 581 images, A Maverick Pilgrim Way describes Mary Jane's adventures on the pilgrim trails of Europe and the Mediterranean and in the surrounding cultural landscapes. Mary Jane also reflects on architecture and history in the regions she visits.
For the week of this promotion, A Maverick Pilgrim Way will be on Kindle Countdown, selling at 99 cents on Amazon.com in the USA (normally $5.99) and for 99 p on Amazon.co.uk in the UK (normally GBP 5.99).
Another book by Mary Jane, A Maverick New Zealand Way, was a finalist in Travel in the International Book Awards, 2018!
Targeted Age Group: All – General Trade
Written by: Mary Jane Walker
Buy the ebook:
Buy the Book On Amazon
This site contains affiliate links to products. We may receive a commission for purchases made through these links.