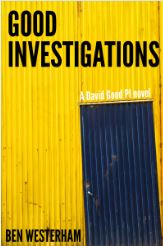 "About Good Investigations:
She's blonde. She's clever. She's in his office. London based PI David Good doesn't stand a chance.
South London. The 1980s. David Good, a morally confused and womanising private investigator, is hired by a ridiculously beautiful blonde to help her fend off the attentions of a serial blackmailer. But he's barely got to grips with the woman's keen sense of self-interest when he stumbles on to something far more unsavoury. Never one to run a mile when a woman needs help, Good finds himself up to his neck in trouble, upsetting some unpleasant people with short fuses and their own self-interest to protect.
Targeted Age Group: 18+
Written by: Ben Westerham
Buy the ebook:
Buy the Book On Amazon
Buy the Book On Barnes & Noble/Nook
Buy the Book On Smashwords
Buy the Book On Apple Books
Buy the Book On Kobo
This site contains affiliate links to products. We may receive a commission for purchases made through these links.