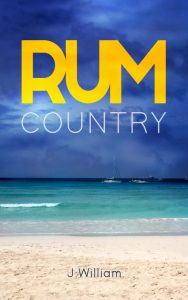 "About Rum Country:
Staring out of the rain-lashed window of an ancient British pub, Jake dreamed of adventure and a hot sandy beach. His best friend Billy was coming to visit from America, and he regretted planning two weeks in Bristol instead of somewhere… warmer.
At least Billy would lap up the history, particularly all the stories about the pirates who'd lived in the area. Jake pictured them walking outside on the cobbles, shrugging their long coats close to their ears to keep the cold and rain out, drinking rum next to him near the fireplace, and even scurrying half-crouched along secret-tunnels rumoured to be beneath the city.
Jake had no idea the next two weeks would not be spent in Bristol, in the rain, or the cold.
He had no idea what the drinks that were about to follow with his best friend would encourage them to do, and the secrets they would discover.
And he had no idea of the danger it was going to put them in.
If he had, he'd have run head first in to the storm and never looked back.
But he didn't know any of that.
Instead, he ordered two beers and two dark rums as soon as Billy arrived, starting a journey that would either deliver them to paradise… or bury them forever.
RUM COUNTRY is J William's debut novel and the first of the Undisturbed Islands trilogy. Book 2, The Antigua Trail, has just been published and is now available on Amazon, and work is already underway on Book 3, Caribbean Ghosts.
"Rum Country is a gripping Caribbean thriller packed full of turquoise seas, white sands, thunderous storms, mystery, adventure, danger, and plenty of rum."
Targeted Age Group: 21-55
Written by: J William
Buy the ebook:
Buy the Book On Amazon
—>
This site contains affiliate links to products. We may receive a commission for purchases made through these links.