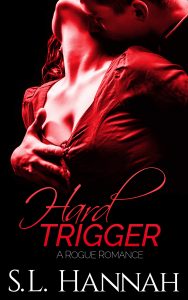 About Hard Trigger:
"Your mother's opiates are coming from Jose Herrera's distribution network." My pulse races as my stepfather speaks these words. Because taking on the Herreras also means taking on Diego.
Reckless, and hardened by a volatile past, Victoria does not see a future with Diego Herrera as a realistic option. As their childhood friendship ignites, they find themselves on opposite sides of a bloody feud between the two most powerful families in Mexico City. And she's a Moreno now—brought up to be the secret weapon nobody suspected.
But Victoria can't deny the attraction. Diego's commanding muscles, the coarse, dark hair of his solid chest, that rugged scar above his sensuous lips…
Loyalty is in the eye of the beholder.
Buy the ebook:
Buy the Book On Amazon
Buy the Book On Barnes & Noble/Nook
Buy the Book On iBooks/iTunes
Buy the Book On Kobo
[Read more…] about Featured Post: Hard Trigger by S.L. Hannah
This site contains affiliate links to products. We may receive a commission for purchases made through these links.