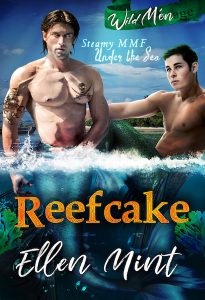 "About Reefcake:
A steamy mermen novella with sword fights, ship battles, and a sexy ménage with a prince merman, his most trusted bodyguard, and a woman who refuses to belong to one man.
Joanna fears her life is over when her father, the Governor of Havana, forces her onto a ship for Spain. She will be wed against her will. In the midst of a pirate attack, Jo's salvation comes from under the seas. She wakes from her rescue to find two delicious men who need her.
Namhu is the serious, life-saving protector, with a body that could walk through a wall. Enki is a beautiful prince of the sea with green hair, a twinkle in his eye, and a tender charm. Both are ecstatic to share in Joanna in this ménage story under the sea.
Targeted Age Group: Adult
Written by: Ellen Mint
Buy the ebook:
Buy the Book On Amazon
—>
This site contains affiliate links to products. We may receive a commission for purchases made through these links.