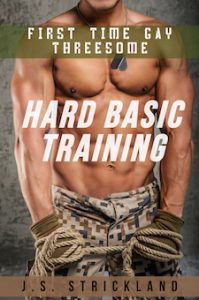 "About Hard Basic Training – First Time Gay Threesome: Men in Uniform Go Gay:
Dirk, Andre and Bobby are new recruits going through basic training. The grueling 10-week course bonds them together but their bi-curious way strengthens that bond even more!
Read as straight men in uniform go gay in J.S. Strickland's new erotic short story!
Targeted Age Group: 18+
Written by: J.S. Strickland
Buy the ebook:
Buy the Book On Amazon
—>