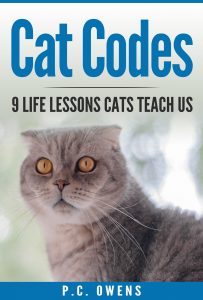 "About Cat Codes: 9 Life Lessons Cats Teach Us:
Cat lovers are patient, understanding, forgiving, caring, and so much more. Cats can be a handful, but they have so much love to give that it's more than worth it, and any cat lover would agree. Some cats hide this love more than others, just as people do. But nonetheless, cats have more life lessons to teach us than we might think.
This book is about taking a deeper look into the things cats do; the way they act, the way they think, and the way they live their lives. Not only this, but we take a look at how our cats teach us more about our own lives. We as humans (and owners) have so much to learn from our furry little friends, and knowing these life lessons can better our perspectives on our lives and even help us to better understand our cats. Every cat is different, just as humans are all different, but we guarantee you will take away at least one amazing life lesson from this cat lover's book!
Targeted Age Group: Any Age
Written by: PC Owens
Illustrated by: PC Owens
Buy the ebook:
Buy the Book On Amazon

Author Bio:
We are Pouncing Cats (PC) and we love our cats! We emphasize the importance of a healthy lifestyle and the influence that our cats have on that. We can truly can learn a lot from them.
Follow the author on social media:
Learn more about the writer. Visit the Author's Website
Facebook Fan Page
Twitter
Instagram