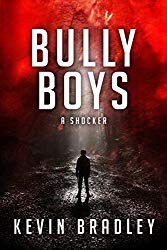 "About Bully Boys:
Boarding school has always been seen as an opportunity to get a good education, and to learn a bit about the realities of life…. But just what does that mean?
Unfortunately in the past and possibly even still today, that has meant children having to endure a certain amount of bullying and brutality, from fellow students and also from the teaching staff!
This book consists of a collection of incidents experienced by a young man called Hedge, along with a few of his friends, during their teenage years at boarding school.
Hedge is one of the main characters in the acclaimed Hedge & Cole Thriller Series by Kevin Bradley.
Bully Boys is a one-off collection, and can be read as a supplement to the Hedge & Cole series, or as a perfectly entertaining book in its own right.
Many of the events are brutal and sadistic. Others are just simply bullying at its worst. But all of them help to explain part of the makeup of Hedge's nervous personality.
Some of the situations described in this collection are from existing Hedge & Cole thrillers, whilst others are completely new material.
Most of the experiences detailed here relate to bullying that occurred during Hedge's time at Upperdale College, but some of them are on a lighter theme, and there are several incidents that he would have been only too pleased to remember!
Targeted Age Group: 30+
Written by: Kevin Bradley
Illustrated by: Kevin Bradley
Buy the ebook:
Buy the Book On Amazon

Author Bio:
Kevin Bradley lives in England, and has travelled all over the world. He tries to bring many of his own personal observations and adventures into his novels.
The author spent all of his teenage years either at boarding school or living on military bases. The frequently exciting, and often cruel experiences from this period are clearly reflected in his writing.
Before turning to storytelling, Kevin had a successful business career and, as well as an Honours Degree in Social Economics, he also holds an MBA from the Edinburgh Business School.
When not writing he enjoys mountain biking, and road running.
Follow the author on social media:
Facebook Fan Page
Twitter