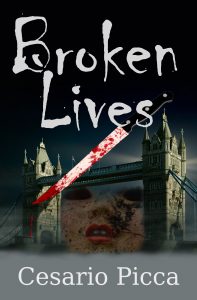 "About Broken Lives by Cesario Picca:
Scotland Yard detective Sonny D'Amato, an Italian emigrant by second generation, investigates to arrest a serial killer who slaughters young lives. By his side there is the clever and promising Coroner July Pence and, just by coincidence, the Salento reporter Rosario Saru Santacroce, in London to change life once more. Existence takes by surprise Saru Santacroce and obliges him to assume the role of a damn reporter who never pulls the plug. A breathless investigation in a thriller that allows no time for a halt to reflect, because there is a sadist who must be blocked before the list of victims gets damn longer. Set in London, this psychological thriller is dedicated to victims of abuse. Hence the title: Broken Lives, exactly like the lives of innocent violated youths compelled to make enormous efforts in order to find a stability that very often they fail to attain or they see it crumble down owing to stress or other unchecked factors, driving them to be, in turn, executioners themselves.
Targeted Age Group: 0-99
Written by: Cesario Picca
Buy the ebook:
Buy the Book On Amazon
Buy the Book On Barnes & Noble/Nook
Buy the Book On Smashwords
Buy the Book On Apple Books
Buy the Book On Kobo
Buy the Print Book:
Buy the Book On Amazon
Author Bio:
Hi, I'm Cesario Picca, I was born and bred in Salento, in South Italy. For 25 years I worked as a crime and judicial reporter so it was very simple start writing thrillers. In my books, like Broken Lives and Murder in the Tremiti Isles, there are many real stories crossed with fantasy.
The main character of my thrillers is a rough and rational man, talkative, charismatic, ready to savor every moment of life as if it was the last. Nicknamed Saru (the nickname that is given in Salento to those named like him), the reporter Rosario Santacroce covers the city's crime beat. As often happens, occasionally work also follows him on holidays because a real reporter is destined (almost) never to unplug. And that is probably why he gets entangled in murders.
Maybe, between Saru Santacroce and me there are many points in common, we love life and we think life is a gift. We love footing and untill now we have run 20 marathons. A good way, in our opinion, to relax and feel good.
In 2002 I was awarded the Piero Passetti prize for Chronicler of the year. I'm a speaker or moderator at numerous conferences and participate in many radio and television broadcasts.
Follow the author on social media:
Learn more about the writer. Visit the Author's Website
Facebook Fan Page
Twitter
Instagram
This site contains affiliate links to products. We may receive a commission for purchases made through these links.