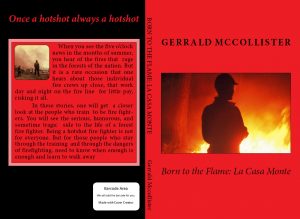 "About Born to the Flame: La Casa Monte:
This is a series of real life stories about forest firefighting through the 1970's and early 1990's, as seen through the eyes of one firefighter.
Buy the ebook:
Buy the Book On Amazon

Author Bio:
Gerrald Mccollister was raised in the backwoods of Oregon, where he worked 17 years with the U.S. Forests Service, 8 of those years on the Zigzag Interregional Hotshot Crew. He served in the U.S. Peace Corps in Guatemala, and married a Guatemalan national. Aftr retiring from Beaverton School District in Oregon, Gerrald moved to their home in the east highlands of Guatemala with his wife and daughter, where they live now.
This site contains affiliate links to products. We may receive a commission for purchases made through these links.