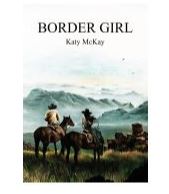 "About Border Girl:
As Natividad Johnston approaches her 17th birthday, there is nothing she would change about her life. She moves easily between the cultures of her American father and her Mexican mother. She navigates the divide between the freedom of ranch life and the constraints of being a proper young woman. But the Arizona Territory is swirling with rumors of rail lines and statehood, and when Nattie pulls a stranger from a flooded river he brings changes she never expected.
Targeted Age Group: YA and up
Written by: Katy McKay
Buy the ebook:
Buy the Book On Amazon

Buy the Print Book:
Buy the Book On Amazon
Author Bio:
Border Girl is my first novel, although I've had articles published in newspapers and magazines. I was told from an early age that I'd be a writer, but I switched my major from journalism to geology. No regrets; it led to adventures in Canada and the US and then to many happy years teaching science in Arizona. As a Navy brat I've always loved being near the ocean, so I retired to Washington's Olympic Peninsula where I wake up to a water view.
I volunteer at an animal rescue where I work with everything from alpacas to emus, but I especially love the horses. My sister and I had horses in California so a barn feels like home to me. I kayak, fix up dollhouses, and I'm always on the lookout for old quilts.
This site contains affiliate links to products. We may receive a commission for purchases made through these links.