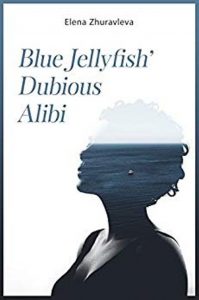 "About Blue Jellyfish' Dubious Alibi: Alien invasion romance books:
It would be better if he stayed at home that day…
A regular guy went fishing and suddenly met a beautiful but unusual creature who needed love and earthly sex. A monster in the guise of a beautiful woman? Scared, he ran away and tried to forget… But suddenly this beautiful creature became a part of his life when he saw somebody trying to kill it. He hurried to save it, but where is it now?
It is a love story without a definite happy end. They are too different. Why does he need monster love? How can they be together?
Targeted Age Group: G
Written by: Elena Zhuravleva
Buy the ebook:
Buy the Book On Amazon

Author Bio:
Elena Zhuravleva, journalist, writer, author of three detective novels and two mystical thrillers. Elena says:
«I have always been interested in the connection between different worlds – ours and those somewhere close, maybe existing in a parallel reality. My books are about the interpenetration of these worlds, the thin veil between, the opportunities and choice of where you want to be. Allow me to introduce some characters of my books. Listen to them, laugh and cry with them, and eventually, you will love them, and together you will win».