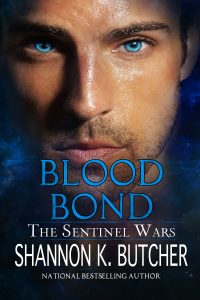 "About Blood Bond:
Justice has never known freedom. She woke up ten years ago, naked and alone with no memory of who or what she was. Since then, she's been a prisoner, compelled by powers she doesn't understand. She's roamed the country, doing whatever the fates demanded of her, good or bad. Completely alone.
Until now.
Ronan is starving to death. Like all the Sanguinar, his survival depends on finding the dwindling traces of blood left behind by an ancient, magical race. Weeks ago, Justice saved his life and since then, it's been her blood he craves, her face he dreams about.
As evil closes in on all sides, threatening the only stronghold the Sentinels have to protect them, Ronan must find a way to gain Justice's trust and free her from the dark powers that control her. Because if he can't, the next person she is compelled to kill may be him.
Targeted Age Group: adult
Written by: Shannon Butcher
Buy the ebook:
Buy the Book On Amazon
Buy the Book On Barnes & Noble/Nook
Buy the Book On Apple Books
Buy the Book On Kobo
Author Bio:
Bestselling author Shannon K. Butcher, who now writes as Anna Argent, has written more than thirty titles since launching her career in 2007. She has three award-winning series, including the paranormal romance series The Sentinel Wars, the action-romance series The Edge, and the romantic suspense Delta Force Trilogy. Her alter ego Anna Argent also writes several series with a fresh and interesting spin on paranormal romance (The Lost Shards, The Taken and The Stone Men series) as well as a contemporary romance series set in a small town in the Ozarks. As a former engineer and current nerd, she frequently uses charts, graphs and tables to aid her in the mechanics of story design, world building and to keep track of all those colorful characters, magical powers and alternate worlds. An avid bead and glass artist, she spends her free time turning small sparkly bits into larger sparkly bits. She's rarely on social media, so the best place to find out news about upcoming releases under either name is via her newsletter. You can sign up at AnnaArgent.com.
Follow the author on social media:
Learn more about the writer. Visit the Author's Website
Facebook Fan Page
Twitter