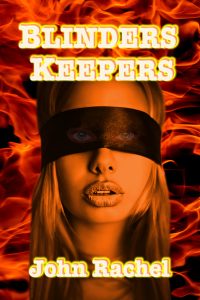 About Blinders Keepers:
In this social-political satire, a young man who escapes his hayseed hometown in Bible-Belt Missouri is mistakenly hunted down by the national security agencies as a terrorist, while the President plagued by an America in chaos and collapse perpetrates an end-of-the-world hoax, in a desperate attempt to get himself re-elected.
Blinders Keepers is humor and commentary in the tradition of Jonathan Swift, Kurt Vonnegut and Joseph Heller, but revved up and spit-shined to take on the historical new levels of absurdity and dysfunction of the 21st Century.
Buy the ebook:
Buy the Book On Amazon
Buy the Book On Barnes & Noble/Nook
Buy the Book On Smashwords
Buy the Book On iBooks/iTunes
Buy the Book On Kobo

Author Bio:
John Rachel has a B. A. in Philosophy, has traveled extensively, is a songwriter and music producer, and an evolutionary humanist. He has spent his life trying to resolve the intrinsic clash between the metaphysical purity of Buddhism and the overwhelming appeal of narcissism.
He is author of eight novels, three non-fiction political books, and one creative non-fiction fantasy/travel/cookbook. Currently in development is a new novel set in Japan, another in Africa, and an American satire on the self-help crazes of the 80s and 90s.
Author Rachel has explored or lived in thirty-four countries since leaving America August of 2006. He is now somewhat rooted in a small traditional farming village in Japan near Osaka, where daily he rides his bicycle through fields of rice and soybeans, and his organic garden begs his attention and care.
You can follow his adventures and developing world view at: http://jdrachel.com.
"Scribo ergo sum."
Follow the author on social media:
Learn more about the writer. Visit the Author's Website
Facebook Fan Page
Twitter
This site contains affiliate links to products. We may receive a commission for purchases made through these links.