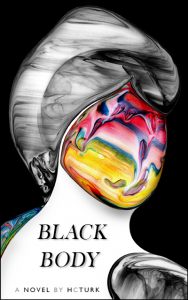 About Black Body:
Originally published by Villard to rave reviews, Black Body is the story of a white witch, Alba, and her struggles to survive 18th-century English society.
    
Black Body is a sweeping tale of good and evil, and the captivating woman intimately acquainted with both. Set in England and Wales, the story is told in the form of testimony given by an imprisoned witch who must reveal all the secrets of her race or be burned and become a "Black Body." Both literary fiction and convincing fantasy, Black Body is as compelling as magic, as touching as a daughter's love.
Alba is the rarest example of her race: the invert or white witch. An anomaly to her equally gentle but unsightly sisters on Man's Isle because of her uncommon beauty, Alba alone is able to pass as a "sinner"—as witches refer to normal humans—and to excite the desire of mortal men. After her mother is executed for witchcraft, Alba becomes the ward of a sinner, Lady Amanda Rathel, who brings the girl to London and instructs her in the ways and wiles of society. Lady Amanda's design for Alba is a consummate act of revenge. Appreciating that sexual contact between this witch and a male sinner can be fatal to the latter, Rathel plans on raising Alba as a lady, then marrying her off to Eric Denton, handsome son of a man who jilted Amanda. During the next several years, in which she survives not only Rathel's stratagems but the British constabulary and her own prejudice against sinners, Alba comes to love Eric deeply, even though she can only satisfy his passion at an unspeakable price.
Here are excerpts from reviews:
•Edward Stewart (author of Privileged Lives, & Ariana): "Black Body is hypnotic, eerie, erotic. An exploration into the very bedrock of sense and sexual instinct, of human good and evil, it compels the reader's admiration and fascination. H. C. Turk possesses the touch of a poet and the skill of a shaman. He has Barbara Tuchman's ability to bring the historical past leaping to life, and H. G. Wells' to articulate the mysterious realms of possibility that exist enfolded in the familiar. He has taken a theme that in its beauty will recall Hans Andersen's Little Mermaid and in its terror Carl Dreyer's Day Of Wrath, and has ingeniously, masterfully rooted it in the smell and buzz of the world we know. The book is not only a virtuoso, utterly satisfying achievement, but a blood-thumping good story."
•The Orlando SENTINEL: "A wonderfully intricate and fascinating tale of sorcery…beautiful, probing, and deliciously descriptive."
•THE ATLANTA JOURNAL & CONSTITUTION: "A literate book with humor and charm. The reader falls under the spell of the narrative. Mr. Turk's language and tone make Black Body a highly original tale."
•Selected by S. F. CHRONICLE as a Book Of The Year.
Excerpts from Amazon reader reviews:
•"Stunning and provocative."
•"Gorgeously great-humored and lovingly imagined."
•"Glorious!"
•"I am amazed at the people who hold up Hemingway and his ilk as the last writers of 'Literature' when their tales cannot hold a candle to the writing of Mr. Turk."
•"Beautiful phraseology. The writing style is terrific…incredibly rich…."
•"Exquisite sensual and unexpected fiction. Absolutely unforgettable."
Buy the ebook:
Buy the Book On Amazon

Author Bio:
I'm an artist working in the disciplines of painting, photography, digital art, moving image, literature, and sound. First and last, I'm a writer. My photographs and digital images have appeared in Camera & Darkroom, Photographer's Forum, Graphis Annual, Digital Fine Art Magazine, American Photographer, and on many web-sites. I have won the "Creative/Fine Art" category in Popular Photography's International Contest. My paintings, prints, and photographs have hung in several local and national exhibitions. I also won the Toray Industries Digital Art DCA Grand Prize. Villard and Tor have published my print novels, Ether Ore and Black Body. My short fiction has appeared in theNewerYork, LitUP, Weirdyear, The New Bourgeois, Nonlocal Science Fiction, Dirty Chai, Smashed Cat, Linguistic Erosion, Monkey Bicycle, Gadfly, Streetcake, The New Post-Literate, and Farther Stars. The editors of the Chicago Review published two novel excerpts of mine and wrote of their "indisputable literary merit," "brilliant passages," and "historical importance." A reviewer wrote of Ether Ore, "This is an amazing piece of inventive plotting and imaginative world-building, with Turk's totally unique and eccentric syntax adding to its aura. And its ending is as cathartic and poetic as any I have ever read." The Amazon Hall Of Fame Reviewer, Grady Harp, wrote this about my novel, Only The Impassioned: "H. C. Turk…is able to define the possibilities of being truly aware of the significance of man in the universe. …A great novel…to be read again—perhaps several more times." Over two dozen web-sites, podcasts, film festivals, and/or radio programs have featured my sound and video art. More to come.
Follow the author on social media:
Learn more about the writer. Visit the Author's Website
Twitter
Instagram