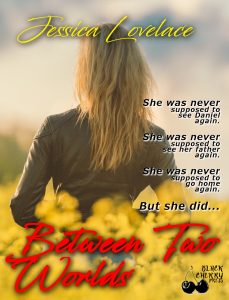 "About Between Two Worlds:
Four men, three choices, two worlds, one secret.
Sometimes the best thing you can do is face the thing you fear the most.
Logan: she was the most beautiful woman I'd ever met. We were destined to be together.
Daniel: we were childhood sweethearts even if she didn't know it. When she came back into my life I knew I had to try.
Mason: giving her up destroyed my life. Finding her again almost ruined me again.
Father: she broke my heart the day she left. I spent 13 years trying to win her back. But now it might be too late.
The story of a woman who returns home after thirteen years to discover as much as things have changed, they've also stayed the same.
A story of love, fear, the past and the power of forgiveness.
Targeted Age Group: 16+
Written by: Jessica Lovelace
Illustrated by: Jessica Lovelace
Buy the ebook:
Buy the Book On Amazon

Author Bio:
Jessica Lovelace grew up in Maine then moved to the mountains where she lives with her husband (an artist) and her dog Shipley. Jessica has written all her life, this is her first book. If you enjoy it, please share it. She's currently working on her next novel, also a romance.
Follow the author on social media:
Learn more about the writer. Visit the Author's Website
This site contains affiliate links to products. We may receive a commission for purchases made through these links.