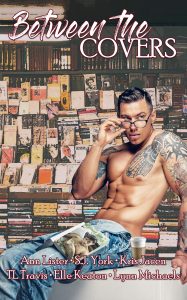 "About Between the Covers:
Get lost in a book store and find something hot.
Behind the stacks, tucked into the dark corners, and reading nooks, you'll find an adventure, and you might just find more. Grab this hot boxset and get into these six tales of passion and possibly love.
Using book stores as a source of inspiration, these six bestselling authors take you on a journey you won't forget. Your heart will be warmed as you dive in and discover our men from the heart of the book store.
Featuring Stories from
Ann Lister
Elle Keaton
Kris Jacen
Lynn Michaels
SJ York
TL Travis
Targeted Age Group: 18
Written by: TL Travis
Illustrated by: Kris Jacen
Buy the ebook:
Buy the Book On Amazon
Author Bio:
TL Travis is the published author of a plethora of LGBTQ+ Erotica and Erotic Romance musings that have earned her a "Best Selling Author" status in the US as well as Internationally.
In her spare time, when she's not weaving erotic webs, she enjoys fishing, wine tasting and people watching. Everyone has a story to tell, what would yours be?
She's rescued 4-legged souls in need for as long as she can remember, and would like to remind you to "Adopt, not shop." Saving that lost soul may very well save yours too.
Follow the author on social media:
Learn more about the writer. Visit the Author's Website
Facebook Fan Page
Twitter
Instagram
This site contains affiliate links to products. We may receive a commission for purchases made through these links.