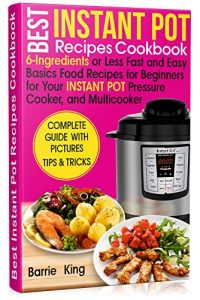 "About Best Instant Pot Recipes Cookbook: 6-Ingredients or Less Fast and Easy Basics Food Recipes for Beginners for Your Instant Pot Pressure Cooker, and Multicooker:
Do you want to make great fast and healthy recipes for yourself and your family using Instant Pot?
This best Instant Pot cookbook will show you how to make the most of your perfect pot. With these easy and healthy recipes, you can surprise your family, friends and your loved one.
So, now you have your kitchen recipes that would help to cook your favorite meals.
•6-Ingredients or Less: save time & money by cutting out expensive ingredients.
•Cooking Times: perfect for busy professionals & moms and beginners.
•Nutritional Value: Good for tracking your daily calories.
•Portion: ideal for calculating servings.
•Metric and imperial measurements: great for people all over the world.
Do you know that even professional chefs recommend this amazing appliance, the Instant Pot? You have made a big decision and a very important one, to buy Instant Pot. But what do you need now? Recipes, and lots of them. Recipes that will give you the best experience and a great start before you can start creating your own recipes. Think about it, almost all recipes can be cooked in this magical pot.
But why is it so special? Because the time of cooking is greatly reduced. Even the meat that requires 3 hours to cook with the Instant Pot it will take 30 minutes.
While this book focuses on cooking under pressure, it can also work as a Steamer, Rice Cooker, and aSlow Cooker. But the most important benefit of all is that it retains the flavors and the nutrients of the ingredients. Plus the recipes in this book are with 6 or less main ingredients and have an amazing combination of seasoning that you will be amazed. Each step is clearly explained. So even if you are a beginner cook you will become a professional chef.
It is time to show off your skills with your Instant Pot fast and easy to your friends and family! Let them enjoy the delicious recipes.
Targeted Age Group: G
Written by: Barrie King
Buy the ebook:
Buy the Book On Amazon

Author Bio:
Hello, my name is Barrie King
I love to cook flavorful food using fresh ingredients–but I like to make things as efficiently as possible. I run my own global consulting firm but have also answered the calling to share my personal story of how cooking and food changed my life — for the better. I want to give families healthier (and easier) ways to prepare meals.
I am a gadget geek, so many of my recipes use Instant Pots and air fryers. I also try to eat keto or low carb, so you will see many keto recipes as well.
My journey has been an amazing one. Traveling globally allows me to truly experience and respect everything an at home cook looks for: the right ingredients, shortcuts to prep and easy preparation with great reward.
I hope my books will be useful to you !!!
With lots of love Barrie King !
This site contains affiliate links to products. We may receive a commission for purchases made through these links.