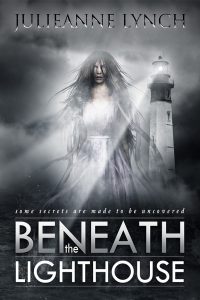 About Beneath the Lighthouse:
"Beneath the Lighthouse grabs you by the nether regions from the word go. Then it squeezes. Hard. With a nailed glove … A truly scary ghost story … a powerful 'coming of age' drama … a young man growing into adulthood against a backdrop of despair and quite shocking abuse … unpredictable and ever building. Blood and bone revenge, retribution and salvation. The strength of friendship, the power of love. You feel the dread and the underlying fear … not your typical tale. And what a tale it is." —EM Faustus
***
Sixteen-year-old Jamie McGuiness's sister is dead.
Sinking into a deep depression, he frequents the lighthouse where her body was discovered, unaware of the sinister forces surrounding him.
When an angry spirit latches onto Jamie, he's led down a dark and twisted path, one that uncovers old family secrets, destroying everything Jamie ever believed in.
Caught between the world of the living and the vengeful dead, Jamie fights the pull of the other side. It's up to Jamie to settle old scores or no one will rest in peace — but, first, he has to survive.
Buy the ebook:
Buy the Book On Amazon
Buy the Book On Barnes & Noble/Nook
Buy the Book On iBooks/iTunes
Buy the Book On Kobo

Author Bio:
Julieanne Lynch is an author of urban fantasy, mystery, and contemporary fiction for both adults and teens. Julieanne lives in Northern Ireland with her family, where she writes full-time. Before becoming a writer, she considered a few different career paths, a rock star being one of them. She studied English Literature and Creative Writing at The Open University and considered journalism as a career path. However, she decided writing was the way for her and is thankful for each day that she gets to pursue her dream.
Follow the author on social media:
Learn more about the writer. Visit the Author's Website
Facebook Fan Page
Twitter
Instagram
This site contains affiliate links to products. We may receive a commission for purchases made through these links.