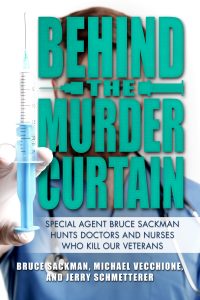 "About Behind The Murder Curtain:
Bruce Sackman, who served as Special Agent in Charge of the Department of Veterans Affairs, is set to release a new book on medical serial killers. The book, titled Behind the Murder Curtain: Special Agent Bruce Sackman Hunts Doctors and Nurses Who Kill Our Veterans marks Sackman's first collaboration with publisher Post Hill Press, and will be distributed by Simon & Schuster.
Behind the Murder Curtain is the true story of how Sackman was drawn into the macabre world of doctors and nurses who murder their patients and how he evolved from an investigator of routine cases to the world's leading expert on Medical Serial Killers.
Sackman, along with co-authors Michael Vecchione and Jerry Schmetterer, tell how he brought down four Medical Serial Killers in Veterans Hospitals while also developing RED FLAGS PROTOCOL, which is now taught to investigators and forensic nurses throughout the world as a tool for stopping Medical Serial Killers.
Targeted Age Group: adult
Written by: Bruce Sackman
Illustrated by: Cody Corcoran
Buy the ebook:
Buy the Book On Amazon
Buy the Print Book:
Buy the Book On Amazon
Author Bio:
Bruce Sackman served as the Special Agent in Charge, U.S. Department of Veteran Affairs (VA), Office of Inspector General, Criminal Investigations Division, Northeast Field Office until May 2005 when he retired after 32 years service. In this capacity, he was responsible for all major criminal investigations involving VA from West Virginia to Maine. During his tenure he was involved in hundreds of investigations involving allegations of fraud, corruption, false claims, thefts, patient assaults, pharmaceutical drug diversions and suspicious hospital deaths. He was also responsible for supervising the successful investigation of the nation's first homicide conviction in connection with pharmaceutical research. His cases have been featured on the Discovery Health Channel, CNN, MSNBC, America's Most Wanted and on Home Box Office. He is the recipient of many awards for his investigations and for his efforts in encouraging the profession of forensic nursing. Mr. Sackman has lectured at several forensic related conferences, State police organizations, the Federal Law Enforcement Training Center, universities and medical related symposia.
Mr. Sackman is currently self-employed as a licensed private investigator in New York City specializing in healthcare related matters. Under contract, he directs all major investigations for the Mount Sinai Healthcare System encompassing the Icahn School of Medicine at Mount Sinai and seven member hospital campuses, as well as an expansive network of ambulatory care centers throughout the New York metropolitan region.
He is the coauthor of Behind The Murder Curtain, Special Agent Bruce Sackman Hunts Doctors and Nurses that Kill Veterans
Follow the author on social media:
Learn more about the writer. Visit the Author's Website
This site contains affiliate links to products. We may receive a commission for purchases made through these links.