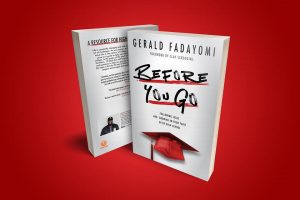 "About Before You Go:
Life is constantly changing and with every new season comes a new set of challenges. As you prepare to leave high school behind and move into a new season of college and "adulting" this book will serve as a guide to help you maintain and grow your faith in college. In the pages of this short book you'll letters from college freshman, 10 ideas that will help prepare you for what's ahead, and questions to help you process and apply what you've read. My hope is that by the end of this book you will walk away challenged, encouraged and prepared before you go…
Buy the ebook:
Buy the Book On Amazon

Author Bio:
Gerald Fadayomi leads the High School ministry (InsideOut) at Browns Bridge Church, a North Point Ministries church in Cumming, Georgia. His passion for the next generation is displayed through his communicating and writing, but is best seen when he is hanging with a group of students at a Friday night football game or a Friday morning FCA. His hope is to inspire the next generation to love God and influence their peers by living life counter-cultural. He is an Atlanta native and loves doing life and ministry with his wife, Kiley Fadayomi.
Follow the author on social media:
Learn more about the writer. Visit the Author's Website
Twitter
Instagram
This site contains affiliate links to products. We may receive a commission for purchases made through these links.