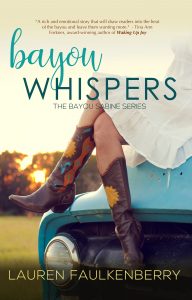 "About Bayou Whispers:
New love is put to the test in the sultry bayous of Louisiana in this contemporary novel of suspense, betrayal, and romance from Amazon bestselling author Lauren Faulkenberry.
Thirty-one-year old Enza has finally found love with sexy firefighter Jack, and through him, she has gained a family, years after her mother abandoned her. With her friend Kate in town, Enza's looking forward to her first Christmas in Bayou Sabine, surrounded by those she cares about most.
But instead, the holiday brings disaster. One guest puts someone Enza loves in danger, and threatens her bond with Jack. Another guest brings news that makes Enza question the circumstances surrounding her mother's disappearance and doubt everything she believed to be truth about her parents. Enza, fleeing Jack and the turmoil in Bayou Sabine, sets off with Kate on a road trip that could bring her solace—or might destroy everything she's built.
Will she put to rest the mystery of her mother's disappearance and find the strength to accept the truth? Can she return home in time to save everything that's important to her and salvage her relationship with Jack?
Targeted Age Group: 18-50
Written by: Lauren Faulkenberry

Buy the Print Book:
Buy the Book On Amazon
Author Bio:
Lauren Faulkenberry is author of BAYOU MY LOVE, BAYOU WHISPERS, BACK TO BAYOU SABINE, JUST THE TROUBLE I NEEDED, BENEATH OUR SKIN (all from Blue Crow Books) and the children's book WHAT DO ANIMALS DO ON THE WEEKEND? (Novello Festival Press)
Lauren divides her time between writing, teaching, and printmaking. Originally from South Carolina, she has worked as an archaeologist, an English teacher, and a ranger for the National Park Service. She earned her MFA in creative writing from Georgia College & State University, and her MFA in Book Arts from The University of Alabama. She was a finalist for the Novello Festival Press First Novel Award, won the Family Circle short fiction contest for her story "Beneath Our Skin," and was nominated for an AWP Intro Award. She's a sucker for a good love story and is happiest when she writes comedy and romance.
She lives in North Carolina, where she is at work on her next novel in the Bayou series.
Follow the author on social media:
Learn more about the writer. Visit the Author's Website
Facebook Fan Page
Twitter
Instagram