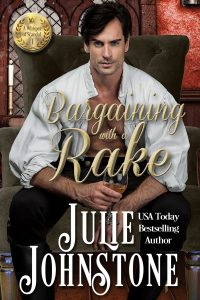 "About Bargaining with a Rake:
For eleven years, Gillian Rutherford has dreamed of escaping her family's dark secret and living a normal life. Now, faced with an unwelcome marriage that will chain her to London and the secret slowly killing her, she's desperate to save herself and the sister she adores. Salvation comes in the form of an American shipping tycoon, and all she must do is seduce him into marrying her. But Gillian's scheme hits a snag when she makes a bargain with a notorious rake Alexander Trevelle, Lord Lionhurst. He'll help her win the hand of his American friend, if she'll assist him with exacting revenge against her unwanted fiancé. But the price of the pact may just be their hearts.
Targeted Age Group: 30 – 90
Written by: Julie Johnstone
Buy the ebook:
Buy the Book On Amazon
Buy the Book On Barnes & Noble/Nook
Buy the Book On Apple Books
Buy the Book On Kobo
Author Bio:
As a little girl I loved to create fantasy worlds and then give all my friends roles to play. Of course, I was always the heroine! Books have always been an escape for me and brought me so much pleasure, but it didn't occur to me that I could possibly be a writer for a living until I was in a career that was not my passion. One day, I decided I wanted to craft stories like the ones I loved, and with a great leap of faith I quit my day job and decided to try to make my dream come true. I discovered my passion, and I have never looked back. I feel incredibly blessed and fortunate that I have been able to make a career out of sharing the stories that are in my head! I write Scottish Medieval Romance, Regency Romance, and I have even written a Paranormal Romance book. And because I have the best readers in the world, I have hit the USA Today bestseller list several times.
Follow the author on social media:
Learn more about the writer. Visit the Author's Website
Facebook Fan Page
Twitter
Instagram
This site contains affiliate links to products. We may receive a commission for purchases made through these links.