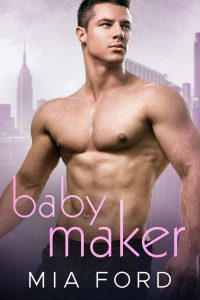 "About Baby Maker:
I'm "The Baby Maker."
I give women what they want, no questions asked.
And I get paid to do it.
It's the easiest job in the world.
No fuss, no mess, and I make a ton of money.
It was perfect.
Then my next client walked in, and everything went to hell.
Elisha was the last person I expected to see. The girl that got away.
Curves that could make a model jealous and come-hither eyes that turn my muscles to mush.
Her husband treats her like dirt. I'll treat her like the queen she is.
I screwed up once, but this time I'll do everything right.
No games. No regrets. I'm taking Elisha back.
And this time, I'm not letting her go.
Targeted Age Group: All
Written by: Mia Ford
Buy the ebook:
Buy the Book On Amazon

Author Bio:
I am a contemporary romance writer who loves strong, gorgeous, Greek God-like alpha men who love protecting their sassy and sexy women.
I am very honored to have many of my books hitting the TOP 100 on Amazon's paid store!!!
Follow the author on social media:
Learn more about the writer. Visit the Author's Website
Facebook Fan Page
This site contains affiliate links to products. We may receive a commission for purchases made through these links.