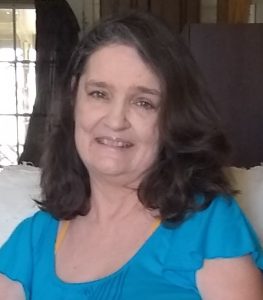 Tell us about yourself.:
I am an author of several books, including novels and short stories. I write in many different genres – humorous, horror, dystopian, science fiction, etc. I'm also a retired middle school teacher. I taught language arts and enjoyed helping my students find their own creativity. I live in the desert Southwest of the United States. I have a wonderful sister who always offers me support. I also have an adorable cat named Simba who I love spending time with.
Where did you grow up, and how did this influence your writing?:
I grew up in the Midwest. I'm not sure that the place actually inspired my writing, but I loved writing even when I was a child. I would often spend my free time writing plays and stories. It provided me with stress relief and still does to this day!
Do you have any unusual writing habits?
Some of my characters and stories are very unusual, but I'm not sure that my habits are. The most unusual thing I can think of is that I am often inspired by dreams (usually nightmares). Instead of being upset by the dream when I wake up, I just think of ways to turn it into a story.
What authors have influenced you?
I grew up in the Midwest. I'm not sure that the place actually inspired my writing, but I loved writing even when I was a child. I would often spend my free time writing plays and stories. It provided me with stress relief and still does to this day!
Do you have any advice for new authors?
Just start writing! It's easy to be overwhelmed by the idea of writing a book if you've never written one. When I wrote my first novel, I had no idea how I was going to turn my idea into a full-length book. But now, I'm actually turning it into a series that looks like it's going to have at least six books. That would definitely have been way too overwhelming for me had I thought about it at the time. So, think about the book you want to write. Start hashing out some details like who will the characters be, what problem with they face, etc. After organizing your thoughts, start writing. Don't spend time worrying about how it's going to come out. If you love it, that's great. Keep going. If you hate it, that's okay too. There's nothing wrong with starting over! I always told my students that part of the revision process is sometimes throwing out the first draft and starting over.

What is the best advice you have ever been given?
Don't be too hard on yourself. I tend to be a perfectionist. If even one little thing is wrong, whether it's with writing or some other aspect of my life, it drives me crazy. I obsess over it. I definitely need to learn to let go and not be so hard on myself when something isn't perfect.
What are you reading now?
I'm actually reading an older book that I somehow missed hearing about when it came out. I'm reading, "Four: A Divergent Collection," by Veronica Roth. I'm a huge "Divergent" fan, so it's fun to read stories told from Four's point of view.
What's your biggest weakness?
Distraction. It's so hard for me to sit down and finish a project because I have so many ideas in my mind. I actually have at least a dozen books that I plan to write. Some of them will be single books while some will be series. I'm actually working on two series simultaneously. I know if I just picked one and finished it, I could do so more quickly. But I like them both so much that I find myself going back and forth.
What is your favorite book of all time?
That's a hard question. There are so many! But I'd probably say the entire "Hunger Games" series. I absolutely love them. I have read the books twice and have lost track of how many times I've watched the movies. The other choice that comes close to "Hunger Games" would be the "Twilight" series.
When you're not writing, how do you like to spend your time?
I love to watch movies and TV shows, although I tend to binge watch shows from the 80s and 90s. I'm an 80s girl at heart. I love the music, fashion, and shows. I also like dancing to lively tunes, and of course spending time with my cat!
Do you remember the first story you ever read, and the impact it had on you?
I don't remember the first story I ever read. I'm sure it was probably a fairy tale. The story that stands out to me from my childhood is "The Lottery" by Shirley Jackson. The ending was so unexpected for me. I was shocked! But there was something about it that made me remember it. As sad as the ending was, I have loved dystopian fiction ever since.
What has inspired you and your writing style?
My inspiration has come from so many places. Being a huge movie and book fan, I think that just helps me have ideas of my own. I love telling stories, reading stories, watching stories. I just love being taken into a make-believe world whether it's mine or someone else's. Also, like I mentioned earlier, I have been inspired by dreams. In addition, one of my series ("Alien Cats") was inspired by my deep love for cats. It also served as a memorial for cats who I lost to old age and illness by being able to use their names for the characters and being able to include their pictures on some of the book covers and in the trailers.
What are you working on now?
I'm finishing up a rewrite of the first novel I published, "Check Mate." I wrote it as a single book when I first published it. But then, I was inspired to make it a series. When I went back to rewrite it, it became so long that I had to make it the first two books in the series. I'm also working simultaneously on my Vânător Vampire Hunter series. The first book, "The Voinico's Daughter," was released in December. My goal is to have the "Check Mate" books (1 & 2) up and running soon, and then to have the next book in each series done by the end of the year.
What is your favorite method for promoting your work?
I'm still trying to figure out the best way to promote my work. It hasn't been the most effective way yet, but I love making trailers and putting them on Youtube and on my author pages.
What's next for you as a writer?
I really want to finish the "Check Mate" and "Vânător Vampire Hunters" series. I hope I can do so without getting too distracted with all of the other ideas I have!
How well do you work under pressure?
I don't do well under pressure. If I too much put pressure on myself to do something in a certain timeframe, it just results in anxiety and holds me back. I write much better when I'm relaxed. So, I like to set reasonable goals and try not to be upset if I don't make the deadlines I set for myself. That's the beauty of self-publishing – no deadlines from publishers!
How do you decide what tone to use with a particular piece of writing?
Honestly, it just comes natural to me. I don't really think about it. If I know I want to write something that's creepy, I adjust my tone and word choice accordingly. If I'm writing something humorous, I'll include my silly sense of humor. It sometimes amazes me how I can switch gears so quickly and go from one tone to another completely different tone so quickly.
If you could share one thing with your fans, what would that be?
I would share with them that I am a huge animal lover. I'm a cat person, but I like dogs also. I find myself scrolling social media and looking at cat videos or reading about animal rescues. I think the world is a much better place when we're able to share it with animals.
Sallie Cochren's Author Websites and Profiles
Website
Amazon Profile
Goodreads Profile
Smashwords Profile
Sallie Cochren's Social Media Links
Facebook Page
Twitter
Instagram
LinkedIn
YouTube Account
This site contains affiliate links to products. We may receive a commission for purchases made through these links.