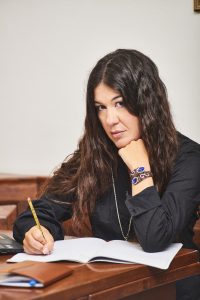 Tell us about yourself.:
My name is Maricla Pannocchia, I am 36 years old and I am from Italy. I've always loved writing and I started writing my first short stories when I was in primary school. In 2014 I have published my first novel in Italian, which has been followed by two other books, and in September 2021 I've released my first YA novel in English, "Letters from Afghanistan" (which I've made downloadable for free from my website or Instagram profile). In 2014 I've set up my own charity to support young people with cancer, and I still run it. I want to use my writing as a tool to make the world a better place and to encourage people to see the world is, and should be treated as, a global one.
Where did you grow up, and how did this influence your writing?:
I was born and raised in a small village by the sea in Tuscany, Italy. I am not really sure it has influenced my writing in any way beside the fact that during winter there isn't much to do outside so it's the perfect excuse to sit down and write.
Do you have any unusual writing habits?
I don't think so.
What authors have influenced you?
I was born and raised in a small village by the sea in Tuscany, Italy. I am not really sure it has influenced my writing in any way beside the fact that during winter there isn't much to do outside so it's the perfect excuse to sit down and write.
Do you have any advice for new authors?
Write from your heart. Today everyone can publish a book, so you have to fight hard to stand out from the crowd and I think the only way to do it is to be true to yourself, look for your own voice and then be brave with that.

What is the best advice you have ever been given?
It is not strongly linked to writing, it's a general advice, but I think it's a really useful one: stop using your head and trust your heart and guts more. I also love advices about being true to yourself and honest with yourself and others.
What are you reading now?
I have just finished reading "A thousands splendid suns" by Khaled Hosseini and I loved it. I am a very picky reader, and I admit I didn't particularly enjoyed "The kite runner", but I totally loved this one. That is a heartwarming and heartwrenching novel, every character is very deep and the story is sadly very actual.
What's your biggest weakness?
I don't know if it's a weakness but, despite having had many disappointments by people, I still believe in humankind. I also think weakness are what make us stronger. Society often tells us we should be perfect and feeling sad, depressed, struggling with something is a sign of weakness which is something bad and that we should be ashamed of. That is not the case. We all struggle at times, and it's perfectly fine. It's part of what makes us human.
What is your favorite book of all time?
I don't have a favorite book. I love classic novels, books about travel and true stories and those set in other countries, especially away from the Western world.
When you're not writing, how do you like to spend your time?
Travelling (even if I often end up writing about the places I see and people I meet), going to the beach, having a walk, reading… I love the simple things.
Do you remember the first story you ever read, and the impact it had on you?
I am not sure if it was the first book I ever read, but I remember a children's book I read when I was about 6 years old and it featured stories who had various animals as the main characters. I don't think it really had an impact beside the fact I enjoyed those stories and I simply loved the concept of books, reading, writing and I already knew I wanted to work in the writing business as a grown up.
What has inspired you and your writing style?
I have always been interested in social causes. It's more than an interest, really, I think it's a call. I have always wanted to use my writing, somehow, to shed a light on causes and people we often don't hear from. I want to travel the world, see the places and meet the locals to do my part in creating a world based on mutual understanding, respect and celebration of diversity. That is why all my books are about social causes. The latest one, the YA novel "Letters from Afghanistan", has been written about five years ago but it's, sadly, very actual and I am happy I can play my part in reminding people to not forget Afghans and all the other people struggling around the world.
What are you working on now?
I am working on a book in Italian, which we'll feature various stories told from young people's point of view and inspired by real life stories, touching on various human rights and their violations. The book will hopefully encourage people, especially young people, to see that sadly most people in the world struggle with very serious things and will guide them to educating themselves and taking action.
What is your favorite method for promoting your work?
I love everything! I enjoy getting reviews, doing author interviews in whatever format, being on TV, video, radio… you name it, I love it! I think what I really love is to connect with readers and with people in general because you never know when an opportunity may arise.
What's next for you as a writer?
Beside the book I have mentioned earlier, I already am planning another YA novel in English, which I will hopefully write during Christmas holiday, focussing on refugee children. I should be travelling to a refugee camp in Turkey with an Italian NGO in December and so I plan to go there, talk with the kids and use my writing to share their stories and voices to help them be more visible.
How well do you work under pressure?
Very well!
How do you decide what tone to use with a particular piece of writing?
It comes naturally.
If you could share one thing with your fans, what would that be?
I don't know… I'd simply encourage them to really get to know themselves, to get an education about what goes in the world, to care for other people. We all are living in very scary times, and if we don't act quickly, and together, we'll soon see other humanitarian crisis and, it doesn't matter where we live or who we are, no one has the luxury to say, "I don't care" anymore. We all can do something, from helping in the community to supporting people who live far away. Be kind. Be honest. Be true to yourself.
Maricla Pannocchia's Author Websites and Profiles
Website
Goodreads Profile
Maricla Pannocchia's Social Media Links
Facebook Page
Instagram
YouTube Account
This site contains affiliate links to products. We may receive a commission for purchases made through these links.