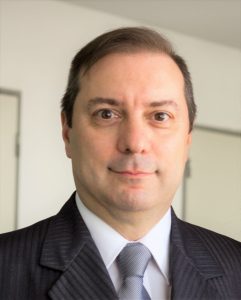 Tell us about yourself.:
I am a lawyer (LL.M., McGill University, Montreal, Canada) and, most importantly, a happy husband and father (one son, and a baby boy on his way). After practicing law for many years and serving as ad hoc diplomat to a specialized UN agency, I am currently focused on enjoying my family time and writing, and I am very happy to join the My Book Place community!
Where did you grow up, and how did this influence your writing?:
I was born and raised in Argentina, but a big part of my adult life in Canada. North-America´s unique environment, cultural background, and landscapes have heavily influenced my writing, as you can tell from the very cover of "Crimson Winter"
Do you have any unusual writing habits?
I don't think I have any writing habits that are noteworthy for their uniqueness. But when I'm committed to a project, I'm determined to write every day (for intellectual activities, I am more productive in the second half of the day and at night). I also endeavor to strictly follow Stephen King's advice: "If you want to be a writer, you must do two things above all others: read a lot and write a lot. There's no way around these two things that I'm aware of, no shortcut."
What authors have influenced you?
I was born and raised in Argentina, but a big part of my adult life in Canada. North-America´s unique environment, cultural background, and landscapes have heavily influenced my writing, as you can tell from the very cover of "Crimson Winter"
Do you have any advice for new authors?
Of all the persons living on earth, there is only one who has the power to cast the deciding vote to kill your dream. That person is you. So, keep writing, keep writing, and…keep writing! Remember that "an overnight success is ten years in the making." (Tom Clancy).

What is the best advice you have ever been given?
"What is talent? Does anybody know how to measure talent? What if talent is something you grow, not something you inherit? The fact is writing fiction requires a few skills. We've never met anyone who had all those skills when they started writing. Every single published novelist we know spent long hours learning the craft of fiction. They all had one thing in common: persistence. We have no idea what talent may be, but we do know persistence when we see it. If you have persistence, you have as good of a chance of getting published as anyone else." Randy Ingermanson.
What are you reading now?
I have a list of classic books I still have to tackle (or reread), such as: Airframe (M. Crichton), Notes from Underground (F. Dostoevsky), Of Mice and Men (J. Steinbeck), and Slaughterhouse-Five (K. Vonnegut), among others.
What's your biggest weakness?
I´m probably too much concerned about the future of my family. To be certain that they will never be in need is my obsession.
What is your favorite book of all time?
I´m incapable of choosing just one, but some of my favorite books are The Grapes of Wrath, To Kill a Mockingbird—not surprisingly, given my profession—The Catcher in the Rye (it doesn't amaze me that an average of 700 copies of this book are still sold every day around the world, more than 70 years after its first publication), Patricia Highsmith's novels, and Ambrose Bierce's short stories, among others.
When you're not writing, how do you like to spend your time?
I love spending time with my family, reading, and teaching -this is a passion that I think will never abandon me!
Do you remember the first story you ever read, and the impact it had on you?
The first book that I recall reading was "Treasure Island", by Robert L. Stevenson, when I was just a kid. It ignited my imagination and it started it all.
What has inspired you and your writing style?
Still today, every time I read a good fiction book or watch a classic movie (old or new), I feel great respect and admiration for those who were able to craft a story so compelling that touches you deep inside or, at least, keep your interest alive until the last minute. That´s a gift! And that´s the fuel that stimulates my writing. Regarding my "style," I just try to do my best to fulfill the best maxim I´ve ever read about writing fiction: the sole objective of every book and, if possible, every scene on it, must be giving your reader a powerful emotional experience.
What are you working on now?
I have several writing projects in mind. After finishing reading "Crimson Winter," you've surely realized that the main one is a continuation of this story, for "Crimson Winter" is intended to be the first installment of a series (ideally, three books). Many readers have told me that they're already looking forward to the next book, which of course flatters me and places a great responsibility upon my shoulders at the same time.
I would also like to write a story in which the protagonist is a woman who must face challenges that push her to the limits and, at first, appear to overwhelm her completely, albeit with an entirely different theme and setting than "Crimson Winter." The only thing they will have in common is the underlying theme of female empowerment.
Finally, I'm about halfway through a collection of stories that could be labeled as "grim."
What is your favorite method for promoting your work?
Through promotion sites, like MBP!
What's next for you as a writer?
To focus on the projects I mentioned before.
How well do you work under pressure?
I´d say I do well, as long as the motivation is strong enough to keep me going.
How do you decide what tone to use with a particular piece of writing?
I just picture the scene in my head, and try to choose the tone and pick the words that I believe are best to reproduce that image in the readers´ own minds. As Stephen King brilliantly put it: What´s writing? Telepathy, of course.
If you could share one thing with your fans, what would that be?
At this moment, there's nothing I´d love to share more with the entire world that my joy of soon becoming a father for the second time.
Ken Adams's Author Websites and Profiles
Website
Amazon Profile
This site contains affiliate links to products. We may receive a commission for purchases made through these links.