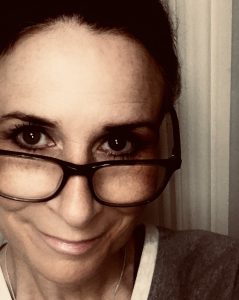 Tell us about yourself.:
I'm a married mum of one who lives in Surrey, just outside London in the UK. I used to make short indie films and started to write short stories and longer fiction around seven years ago. I've always been obsessed with thrillers, true crime and horror stories, especially those that have an unreliable narrator.
Where did you grow up, and how did this influence your writing?:
I grew up in a northern town in the UK. It shows itself in my characters – they are kind are hard, edgy, use a bit of language. It's what I was surrounded by where I was raised.
Do you have any unusual writing habits?
Just fitting it in whenever I can – I work full time in a day job so writing is done in the gaps between everything else!
What authors have influenced you?
I grew up in a northern town in the UK. It shows itself in my characters – they are kind are hard, edgy, use a bit of language. It's what I was surrounded by where I was raised.
Do you have any advice for new authors?
Read as much as you can in the genre you are writing in. Also read books on how to plot for pace, how to create rounded characters and how to create mood with setting. Reading is as important as writing.

What is the best advice you have ever been given?
Finish things. You can't improve on something unless you get it down in the first place. So just write until it's done then refine later.
What are you reading now?
I've just finished Birdman by Mo Hayder. A hard hitting UK serial killer thriller from a few years ago, set in London. It is awesome and awe inspiring.
What's your biggest weakness?
Procrastination and lack of self-belief. That's two.
What is your favorite book of all time?
That's a killer question! Fiction, I think it might be We Need To Talk About Kevin by Lionel Shriver, or Gone Girl by Gillian Flynn.
For insight into storytelling, then it's a toss up between Story Engineering by Larry Brooks and The Science of Storytelling by Will Storr.
When you're not writing, how do you like to spend your time?
In my spare time I love running, walking and swimming, but counter some of that healthy stuff with a love of craft beer!
Do you remember the first story you ever read, and the impact it had on you?
It was likely an old fashioned fairytale like The Three Little Pigs, which I recently rewrote as a rape-revenge short story! But the first book I chose to read was The Fog by James Herbert and aside from keeping me awake at night it inspired me to write scary stories.
What has inspired you and your writing style?
My writing style is a little hard-edged I guess. I'm not entirely sure what has inspired that apart from a love of hard-edged fiction and films.
What are you working on now?
I'm working on my second standalone novel. Here's the elevator pitch:
In a ruse to get close to her sister's killer, a writer interviews him in prison for a story about wrongful conviction. She believes it may have been a consensual act that went tragically wrong. But the closer she gets, the more he draws her into his dark and suffocating world in which two can play, but only one will come out alive.
What is your favorite method for promoting your work?
I use all the regular social channels – Facebook, Instagram, Twitter. It's also fantastic that sites like My Book Place support indie authors. Writing a book is tough, but getting it out to readers is much tougher! If your members enjoy any of the books on your site, please leave a review, it means so much to the writer to find out what readers think.
What's next for you as a writer?
Finish my work in progress and get it out there! I'm also working on some short stories for an anthology that I'm putting together called Twisted Tales. It's a bunch of stories inspired by fairy tales but with a dark twist.
How well do you work under pressure?
Pretty well. I find deadlines motivating as I've worked in a deadline driven job for a long time. I find it more difficult to motivate myself when I don't have some time pressure.
How do you decide what tone to use with a particular piece of writing?
It's largely guided by the main character and their attitude and perception, and also by the underlying theme. For example, Scott in Serial Dater is a cynic, so that comes through in the book's voice.
If you could share one thing with your fans, what would that be?
A long, cold and refreshing craft beer! And some good conversation.
K.T. Jayne's Author Websites and Profiles
Website
Amazon Profile
BookBub Profile
K.T. Jayne's Social Media Links
Facebook Page
Twitter
Instagram
This site contains affiliate links to products. We may receive a commission for purchases made through these links.