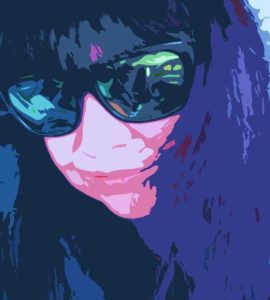 Tell us about yourself.:
I'm a current writer and former factory rat, graphic artist, and kindergarten teacher. I live in Michigan with my beloved husband and our cat Charlie. I was born in Massachusetts and miss the East Coast when I'm not there. I love to write, read, draw, travel, and learn new things; I love nature, love to laugh, love my family. Somebody Knows Something is my first novella.
Where did you grow up, and how did this influence your writing?:
I was born in MA grew up in a blue collar suburb south of Detroit, MI. Not too much of an influence on my writing except for me needing/wanting to get out, venture forth…which writing allowed me to do–virtually.
Do you have any unusual writing habits?
I guess the unusual aspect of my writing is that every time I write something, the experience is different. Either I'm writing in a flurry, or I'm writing in fits and starts, or agonizing about the ending, or not writing for months then writing like a crazy person for weeks on end, dreaming my story start to finish…
What authors have influenced you?
I was born in MA grew up in a blue collar suburb south of Detroit, MI. Not too much of an influence on my writing except for me needing/wanting to get out, venture forth…which writing allowed me to do–virtually.
Do you have any advice for new authors?
1) Write what YOU want to write. Ultimately, it's your name on that cover.
2) Get ready to grow a thick skin quickly, esp. if you go the querying route or have smart, savvy people reading your work.
3) Editing is critical. Be prepared to hack and slash, do what it takes to sculpt and then, fine tune that bad boy.
4) Don't write in a vacuum. Seek out fellow writers, and writing websites. Writing is such a solitary thing and feedback is invaluable. And it goes both ways–you'll be helping others, too. There's so much to learn about writing, editing, querying, promoting your stuff–you don't have to do all that alone.

What is the best advice you have ever been given?
Best advice ever: Squeaky wheel gets the grease. It's a great motivator, especially for somebody like me who tends to be reticent due to shyness.
Best advice relative to writing? It only takes one. Again, a great motivator, especially when the rejections start pouring in, or the words don't come.
What are you reading now?
Mystery, by Peter Straub.
What's your biggest weakness?
Relative to writing, it's self-doubt. Which is funny because when I started writing seriously, my biggest weakness was thinking my stuff was done and perfect right out of the gate, ready to go. Needless to say, I was wrong about that.
What is your favorite book of all time?
Oh man, that's a tough one. When I was a kid, it was A Wrinkle in Time. But now? I'm thinking Stone City by Mitchell Smith. As for my own stuff, I really do love Cherry.
When you're not writing, how do you like to spend your time?
I love being home, I do. I love my husband, my kitty, our little house. But I also love to get the hell out of dodge. I need to do that, and often–I suffer from wanderlust. I absolutely love the east coast. I like to draw and read and be in nature.
Do you remember the first story you ever read, and the impact it had on you?
I don't remember the first story I ever read. I do remember hating to read until I was maybe 7 or 8, finding Archie comic books. After that, I loved reading and devoured all kinds of books.
What has inspired you and your writing style?
I think reading really good books, with good plots and excellent writing has been a big inspiration to me. Once you see what good writing looks like, you can more easily recognize those qualities in your own work and aspire to that. My style is kind of clear and tight, I guess. Lots of dialogue.
What are you working on now?
I'm trying to promote my novella that was published last month (Jan. 2022). I've recently finished writing a novel, haven't started querying that one yet and I have other ones to resume querying, but that has to wait right now.
What is your favorite method for promoting your work?
I'm finding it a challenge to do that, personally. I'm anxious when people read my stuff but I'm trying to get it out there through various websites. In all honesty, I wish somebody with a ton of clout would read my stuff and declare it amazing and folks would clamor to buy my books and everybody would love it and demand MORE…
🙂
What's next for you as a writer?
I have some novels that need to get discovered. I would hope I have a few more new novels in me. Waiting to see how this novella does. Right now, though, I'm dealing with Life, which has thrown some curve-balls. I know I'm not the only one, but when you have to deal with STUFF, on a daily basis, it kind of saps your creativity. So right now, I feel like actual writing is on pause.
How well do you work under pressure?
I put the pressure on myself, generally speaking. I can produce results when I need to, but it's not a comfortable feeling for me.
How do you decide what tone to use with a particular piece of writing?
I don't decide. My characters decide. Their story decides. But always, it seems like my writing tends to be edgy, darkish, some grit thrown in the mix, and also, some tenderness in there, vulnerability, hopelessness and hope, determination. . . describing myself? Then again, isn't that what all writing is, to some degree: a reflection of the writer?
If you could share one thing with your fans, what would that be?
First of all, to any and all fans of my writing out there, thank you very kindly!
Not sure if folks remember Mark Fidrych, who pitched for the Detroit Tigers in the '70s– a fantastic young man who took the baseball world by storm back in the '70s. He lived in an apt. by our house and one day I went over there, knocked on the door…I ended up spending an hour with him, talking and laughing. We were both from MA. He gave me a ride home that day before heading to Tiger Stadium to pitch. He won that game, btw. I'd see him every now and again. Nice kid, fantastic baseball player, gone way too soon. I cherish that day.
K.K. Edwards's Author Websites and Profiles
Website
Goodreads Profile
K.K. Edwards's Social Media Links
Facebook Page
Twitter
This site contains affiliate links to products. We may receive a commission for purchases made through these links.