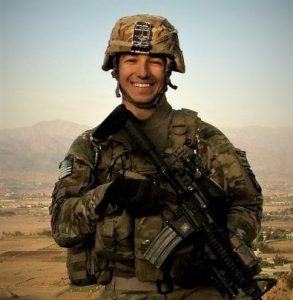 Tell us about yourself and your books.:
I am a combat veteran who worked for the Veterans Administration helping veterans succeed in college. Basically I found myself repeating the same mantras to veterans throughout their college career so much that I decided to write some of that down. I wrote some articles about how veterans can be successful in the classroom and those morphed into this book.
People across the country go tens of thousands of dollars of debt to get a college degree and veterans who can go essentially for free with the GI Bill choose not to go. Those that do go often fail out, feeling out of place and struggling with the unstructured college life. There hasn't been a straightforward book written from a combat veteran to help other veterans navigate the college world.
Do you have any unusual writing habits?
I'll usually listen to podcasts, often military oriented podcasts while I'm running and speak notes into my phone that I want to explore or investigate. I also come up with good ideas when I'm working with veterans, most of what I write about comes from my military experience.
I also clear my head and often have lightbulb moments when I'm riding my motorcycle, it's therapeutic for me.
What authors have influenced you?
My main writing influences are people that get out of the military and do exceptionally well. When people get out of the military they often live out their dreams or their nightmares and that's based on their plan of action.
Do you have any advice for new authors?
I'm basically a brand new author but I think everyone has a story to tell. Even if you are only telling that story to yourself, might as well write it down.

What are you reading now?
Killing From The Inside Out: Moral Injury and Just War by Robert Meagher
What's your biggest weakness?
Teamwork after the military is a challenge. I had guys around me and we depended on eachother for our lives and survival. The civilian world doesn't have that level of commitment so when I have to work with people in education who can't match my level of commitment to the mission, it can be challenging.
What is your favorite book of all time?
I would say the Chronicles of Narnia, mainly because that series made me fall in love with reading as a kid.
What has inspired you and your writing style?
My combat experiences have been my biggest inspiration for writing. I think clear, concise language is important and ensuring the lessons in my book are clear with relevant examples. Common sense and history have to drive our decisions and I try to convey that to veterans that I aim to influence.
What are you working on now?
I'm starting Harvard graduate school soon. I'm bouncing around a few different book ideas about PTSD, teaching overseas or maybe something else in the veteran arena. Right now I'm focused on volunteering with a few veteran organizations to get out there and live my message.
What is your method for promoting your work?
Well, I released my book at this time in history, in the middle of the coronavirus pandemic so that has been challenging. But also given people who have gotten a copy of my book time to sit down and read it and I've gotten a lot of positive responses from veterans and nonveterans alike. My methods in the future will adapt as I see what works and what doesn't, the message is resonating with people so that makes me realize I'm moving in the right direction.
What's next for you as a writer?
After I graduate Harvard I'll be able to raise my platform and my audience.
How well do you work under pressure?
Better when people are shooting at me, so maybe I'll try that or something lol.
How do you decide what tone to use with a particular piece of writing?
I think for my writing, which is targeted toward veterans a certain amount of dark humor is necessary. It is unique to the veteran community that we deal with the things we have to deal with sometimes with that tool. I remember putting bodies in bodybags in Afghanistan which is obviously a troubling situation. My buddy who I was with looked at me during our somber experience and clapped two of the hands together that were just perfectly preserved. Veterans are like that, so I think dark humor is appropriate in certain contexts because it is understood by my audience, at least for this book.
Author Websites and Profiles
John Davis Amazon Profile
John Davis Goodreads Profile
John Davis's Social Media Links
Facebook Profile
This site contains affiliate links to products. We may receive a commission for purchases made through these links.