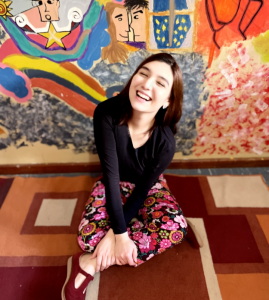 Tell us about yourself.:
My name is Jimena Yengle, I am 19 years old and since I was little I have dedicated myself to developing and learning through Art. My life took a magical turn when I published my first book, and from that moment I have lived a fairy tale that I work for every day I love my work and I think that being an artist means having a great responsibility that we must assume with love.
Where did you grow up, and how did this influence your writing?:
I grew up in Lima, the capital of Peru. At the age of 15 I moved to Tarma, a small town with many colors, which definitely became a source of inspiration for me.
Do you have any unusual writing habits?
Yes, I think I have some unusual and some very common. For example, I usually write down my ideas in a notebook, and I take my writing moment as a research process. I deepen each idea and I can write. I think it is fabulous to investigate. Find out more of history, and of yourself as a writer.
What authors have influenced you?
I grew up in Lima, the capital of Peru. At the age of 15 I moved to Tarma, a small town with many colors, which definitely became a source of inspiration for me.
Do you have any advice for new authors?
I would tell you that now is the time to share the most beautiful things you have in your inner world. The world needs love more than anything, hope and a little bit of magic.

What is the best advice you have ever been given?
I think dreaming is one of the best pieces of advice they have given me, my parents always encouraged me to dream, imagine and pursue my dreams, even if they seem unrealizable.
What are you reading now?
Right now I am reading The Diary of Anne Frank for the ninth time as it is one of my favorite books in the world.
What's your biggest weakness?
I think one of my biggest weaknesses is rushing too much in terms of personal projects and work. Many times I want to do more than I can, and I end up very tired. But it is something I am working on, to have a more balanced life.
What is your favorite book of all time?
Anne of green gables (Lucy Maud Montgomery)
When you're not writing, how do you like to spend your time?
Directing artistic projects, painting, acting and enjoying the human experience.
Do you remember the first story you ever read, and the impact it had on you?
Yes.My fascination for books began when I met Peter Pan by James Matthew Barrie. It was a book that broadened the horizons of my imagination. Reading made my heart happy for many years. At that time in my life, I wrote fairy tales, micro stories and articles. When I turned 12 I realized that I could get answers by putting my inner desires on several sheets of paper. From that moment on I have not stopped writing.
What has inspired you and your writing style?
I am inspired by life itself, my imagination and my internal world. Love is a very present subject, but also very complex. It really colors the human experience, and the mental processes of the individual.
What are you working on now?
Currently I direct 2 virtual spaces for artistic creation: Roma Enamorada and Maniobras Mágicas. Also, I am in an artistic residency developing an experimental project, and putting into practice my own projects.
What is your favorite method for promoting your work?
Social networks. I think they are great to connect with my public, in different countries of the world. I also make videos very often, telling how my writing journey is going, and that helps me to spread my work.
What's next for you as a writer?
I plan to publish my second book at the end of the year, and I look forward to that moment with great joy. Also, I am starting to write scripts, and to explore new genres.
How well do you work under pressure?
Actually, not very well before, but now I have improved a lot. Work has taught me to organize my time and prioritize my activities.
How do you decide what tone to use with a particular piece of writing?
I think about the character, the setting, the context, and many times I act before writing. That is, I act spontaneously, to give a piece more realism and emotional connotation. Of course, that's when I write a novel.
If you could share one thing with your fans, what would that be?
I want to thank you for the beautiful reception you give to my first books, and encourage you to start your own adventure! I want to tell you that the world needs your ideas and your creative alternatives.
Jimena Yengle's Author Websites and Profiles
Website
Amazon Profile
Jimena Yengle's Social Media Links
Facebook Page
Instagram
YouTube Account
This site contains affiliate links to products. We may receive a commission for purchases made through these links.