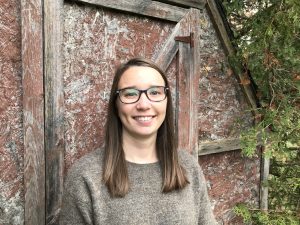 Tell us about yourself.:
My name is Jess Blenkarn, I am currently a 22-year-old student from Southern Ontario. I wrote and self-published my first book at age 15 while in the 10th grade, called Irrefutable Annihilation. Over the next two years, I wrote and self-published two more books, called Soul Survivor and West of Dawn. In 2020, I wrote The Sixth Book in 3 months, and in 2021, World Castle Publishing professionally published it.
Where did you grow up, and how did this influence your writing?:
I grew up in a small town (~800 people) about an hour outside of Toronto. A lot of my books are about small town characters, since it's really all I've ever known. I think this brings a sense of honesty to my writing.
Do you have any unusual writing habits?
None, really. I just find that my first draft is usually very similar to the final draft. I guess that's because I do so much planning that the first draft is exactly what I wanted. But I'm not sure how unusual that is.
Do you have any advice for new authors?
Never give up. I can't stress this enough. No matter who tells you that you cannot be a writer. Prove them wrong every day of your life.

What is the best advice you have ever been given?
Write what you know. This is where the most honest and authentic writing will come from, and your readers can certainly see that.
What are you reading now?
I'm currently finishing "The Tattooist of Auschwitz" by Heather Morris. It is a great book and I highly recommend checking it out!
What is your favorite book of all time?
"And Then There Were None" by Agatha Christie. There's something about the ending that makes it possible for me to read it a million times and never get bored. That is my desert island book.
When you're not writing, how do you like to spend your time?
I am currently finishing my last two semesters, so most of my time is actually spent on school projects, studying for tests, and working part time. Otherwise, I really love going for drives, listening to rock music, baking, and exploring the outdoors.
What are you working on now?
I am currently finishing my last two semesters of university, so my focus is currently on that. As for writing, I am currently writing a short story as part of my Creative Writing class, but immediately after graduating in April 2022, I'd like to write another book. I'm currently thinking up ideas for that book.
What is your favorite method for promoting your work?
Events seem to be a great promotional method! I also heavily rely on family and friends, as well as my network on social media.
What's next for you as a writer?
My fifth book! I can't wait to get started on it in a few months after I finish school. By that point, it will have been 2 years since I last wrote a book, and I miss it so much.
If you could share one thing with your fans, what would that be?
You have no idea how much I appreciate the support from my fans. That support is what keeps me writing and what keeps me believing in myself. Thank you a million times over everyone!
Jess Blenkarn's Author Websites and Profiles
Website
Goodreads Profile
Smashwords Profile
BookBub Profile
Author Profile Other Bookseller
Jess Blenkarn's Social Media Links
Facebook Page
This site contains affiliate links to products. We may receive a commission for purchases made through these links.