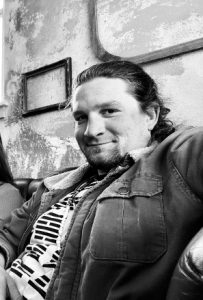 Tell us about yourself.:
In 8th grade, I started a myspace-official religion (thank you to our 121 dedicated followers). I picked up trombone after my ska/punk band broke-up in high school. Florida sucked me back in and I became depressed after blowing-out my knee on a 52-day backpacking trip in Colorado because I thought I blew my only chance at realizing my dream by just trying to chase after it. Someone planted the idea in my head to pick-up skydiving as a hobby in college. 8 years later, I jumped out of an airplane solo after watching a man break his leg on landing right before it was my turn to fly. I'm terrible at cooking. After 3 & 1/2 years as a wilderness therapy field guide, my roommate and I woke up one morning and decided to start a high-end catering company. Life is good & I'm satisfied with myself.
All that aside, I like tea. I'm a homebody and a space/tech nerd. I'm becoming increasingly attracted to Daoism. I'm working on letting go of fixed plans and surrendering to the current of life. For the rest and whatnot in between, you'll have to check out the book.
Do you have any unusual writing habits?
My journals are open and public. I write in them the same as anyone else would, except I invite and encourage family, friends and strangers to write in them as well. I enjoy capturing life's raw moments and I see life as a collaboration of relationships, not an individually-informed perspective.
I often write and work on writing projects for days at a time. Eating, drinking, and sleeping very little. It's somewhat manic, but its a choice and I enjoy it.
For "Collateral Intentions," I spent a year transcribing 10 journals'-worth of poetry, letters, wrinkled cocktail napkins in a shoebox, milestone journal entries, and phone notes to a google doc (don't do that), then transferred it over to Mac Pages (don't do that either), then submitted my eBook to Amazon late (definitely don't do that), and wrestled with a DOCX for over a year until I finally gave up on the last 5 errors in the printed version.
Do you have any advice for new authors?
It took me just as long or longer to self-publish. I didn't think I'd be good enough and didn't have the patience to find the publisher that was looking for my book and submit it. Self-publishing does come with this cool DIY badge of honor, but I plan to find a legitimized press I'm excited to partner with for my future projects.
They have all the resources, they know the biz. While you still have to do most (or all) of the work, I imagine it would be a hell of a lot easier to have that publishing team to call when you're looking for some help. In fact, I'm still hoping to find a legit publisher for "Collateral Intentions".

What is the best advice you have ever been given?
"Do what makes you feel good."
– Howard
Retired, 3rd-grade Education
What are you reading now?
The Tao of Physics by Fritjof Capra
I thought it would be full-on woo but it is surprisingly, incredibly scientifically informed. I read a little every day and I am left saying, "yes, yes, YES" every time I put it down.
What is your favorite book of all time?
The Dao De Jing has utterly rocked my world and brought clarity, surrender, and trust to places in my life I struggle not to grapple into a stranglehold.
When you're not writing, how do you like to spend your time?
I like tea. I'm a homebody and a space/tech nerd. I've been possessed by Daoism in the past two years that I'm dangerously close to calling myself a DaoIST…but I suppose that still counts as reading…right…WELL, I play the hand drum and trombone. I love my shows and movies. I'm a bit like a cat: lazy, sporadic, I purr occasionally. I'm working on letting go of fixed plans and surrendering to the current of life. For the rest and whatnot in between, you'll have to check out the book.
What has inspired you and your writing style?
I try to step out of the way. Writing goes best for me when I forget myself. It gets worse when I start having "clever ideas". I'll do anything from take voice memos while walking around town at midnight, to writing notes on my phone, scribbling sentences on the back of receipts, to journaling. I'm happy that my approach has evolved over the years and continues to do so. I'd prefer not to have a "formula" to rely on. One of the pieces I'm most proud of recently was a several-month endeavour, the longest I've ever taken on a single poem. That one was a scattered collection of creative thoughts and observations while I was a wilderness therapy guide working with at-risk teens & young adults in the Utah desert and Colorado mountains. It also happens to be one of the final poems of "Collateral Intentions".
What are you working on now?
A MAGICIAN NEVER TELLS HIS SECRETS.
"Let your workings remain a mystery. Just show people the results."
What is your favorite method for promoting your work?
Honestly, word of mouth has been my primary mode of ingratiation thus far. I'm currently working on getting sales away from MY mouth. I've put up a few copies in local bookstores, submitted to multiple writing contests, run ad campaigns on Amazon, and attended open mics with copies at the ready.
What's next for you as a writer?
Saying "hello" to Jimmy Fallon on The Tonight Show and watching him explode in laughter.
How well do you work under pressure?
Depends on the circumstances. As far as writing goes, I did exceedingly well in college. When I transferred into New College of Florida I ran into my first writing assignment of 12-15 pages. That was more than I had written during my Associate's Degree COMBINED! I had a total meltdown, emailed my professors that I couldn't take it, I'm quitting college, etc. One professor reached-out and invited me to her office for Zen tea by Tazo to talk me down. I ended-up banging-out 19 pages of academic essay in a single day. That pattern didn't change much hahaha.
How do you decide what tone to use with a particular piece of writing?
I'm typically a sad, disturbed, depressive writer to process my feelings. Most times that's what takes over my writing. However, I'm finding that as I get older I'm able to be more upbeat and awe-inspired by the beauty of life. This results in a bit of a transition-phase where I'm at now: I write less because I'm less sad, less of the time as a coping mechanism and I'm starting to write more when I'm feeling upbeat. I guess I'm finishing my "blue period" haha.
If you could share one thing with your fans, what would that be?
There's an Easter egg on my website. Happy hunting.
Constantine Dhonau's Author Websites and Profiles
Website
Amazon Profile
Goodreads Profile
Smashwords Profile
Constantine Dhonau's Social Media Links
LinkedIn
This site contains affiliate links to products. We may receive a commission for purchases made through these links.